NOTE: This event is postponed until further notice.
Chris Moe hosts his Uncle Grumpy's Green Retreat later this month at Lost Lakes Entertainment Complex. While it is expected to be crammed with speakers, bands and other entertainment, he said it is definitely not just a big party.
The idea began before the vote on State Question 788 with an event Moe — also known as "Uncle Grumpy" — called Cannabis in the Park.
"Somebody called me and said that he wanted to bring the awareness of 788 to Muskogee and everybody was afraid to say the word 'cannabis' in Muskogee," Moe said. "But he rented this park and wanted me to get involved, and I said, 'I'll get involved, but we have to do this my way.' So in three weeks' time, I managed to bring out about 600 people and 15 businesses. … We had a blast. Nothing went wrong. I mean nothing.
"That's kind of where my wanting to celebrate this started was a year ago, thinking that if we pass this, then we need to do this on a regular basis. We need to unite. Yes, this is a medical program. And I'll tell you, I've caught some grief for some of the videos that have been out promoting the event from some people who think that I'm promoting recreational. Here's the thing: Anybody who's watched me for long enough knows I'm very appropriate and very deliberate in what I do. I did not party after the passage of 788 with a cannabis party; I did not go to any of these events where cannabis parties were going on. I went to one Christmas party. I have waited for reasons — real reasons — that we can stand with people who don't use cannabis and celebrate how we've moved forward as a state, not so that we can have a big party and smoke."
For Moe, one of the keys to a successful event was getting buy-in from a diverse set of companies.
"I have tried really hard to get some other industries involved," he said. "What I want is recycling companies and environmentally safe companies out there so we can unite hemp, cannabis, pot — whatever you want to call it, this plant is the key to so many things on this planet. It truly is. And I think that we have set a new tone in Oklahoma."
Uncle Grumpy's Green Retreat is June 28-29 at Lost Lakes, 3501 NE 10th St. Tickets for the event are two for the price of one for each day at $20. Primitive camping sites with one vehicle per site are available for $20 per day, and there are 100 VIP tickets available for $150. VIP tickets include a special T-shirt for the event as well as a gift bag, free parking, food and additional access to bands and speakers.
For the one-year anniversary of the passage of SQ788, Moe has assembled a series of guest speakers, including state Reps. Jon Echols, R-Oklahoma City; Scott Fetgatter, R-Okmulgee; and Jacob Rosecrants, D-Norman; activists like Norma Sapp and law enforcement agency representatives like Mark Woodward of Oklahoma Bureau of Narcotics and Dangerous Drugs Control (OBNDD).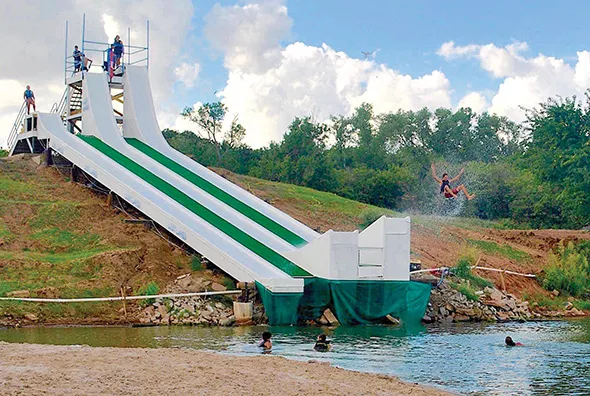 "I've talked to Mark and some of the lawmakers," Moe said. "We're going to be doing dunk tanks. And so I'm actually going to get the lawmakers and the OBNDD in dunk tanks to raise money for charity. I told him about the idea. [Woodward] laughed and said he would try and get as many people from the OBNDD as possible. Nobody else can deliver that but Uncle Grumpy, I'm telling you."
In addition to speakers, many of whom apparently will also end up in the dunk tank that day, 29 musical acts have also agreed to play the event as of June 6.
"Luckily for me, they're almost all professional cover bands, so I'm actually going to enjoy the music," Moe said. "I've been to a couple of these openings where they've had music and stuff, and it's just obnoxious. I'm old. I like old '80s music."
At least one of those bands features a lawmaker reprising his role from a past life.
"Scott Fetgatter used to play in a band back in the '80s, and they apparently did a pretty mean AC/DC," Moe said. "They will actually be performing. His band still performs to this day, but without him, and we booked them during the time slot when he will also be there. He's going to get up and do a few songs too before he does possibly the dunk tank. I don't know if Scott wants to get in a bathing suit, but possibly."
There will also be camping, swimming, wakeboarding, nature walks and beach yoga at the event as well as food trucks and cannabis businesses on hand and a patient drive hosted by Chronic Docs.
"So far, I think we've got about 40 or 50 different businesses that have signed up," Moe said.
Co-organizer Max Baker visited Lost Lakes on June 6. The event will continue even if they have to find an alternate location or reschedule.
"I've been out looking at the lake, which now has become a river. I'm going to have to make a decision on what's not only best for the community, but what's best for the public," Baker said. "This is a celebration. It's not a convention. It's a celebration for everybody in a state of Oklahoma to have medical freedom that they voted for. … The important people that are speaking, they have a mission. I didn't go after big bands. I went out for all local community bands people know, to keep entertainment flowing. If people can free their mind and go back to their teenage years for a day or two and really relive what they what this is all about and how it's helped truly helping them, then we've done something good.
"When I was younger, I got in a lot of trouble with it. And then I fell and hurt myself, and being a recovering drug addict, I wouldn't take the pills. So I like to say the same medicine that wrecked my life has also saved my life because going back to that medicine and using it, I've been able to get out of a wheelchair and walk and lose 205 pounds."
That sums up Moe's mission.
"For the last year. I've truly done this for one reason and one reason only: Because I've watched sick people get better," Moe said. "And right now is the one-year anniversary of when 507,852 of us got together and decided, 'Maybe the reefer madness was wrong. Maybe the world needs to look at a new way.' And we're doing that and we're going to celebrate that.'"
Visit lostlakesamp.com.