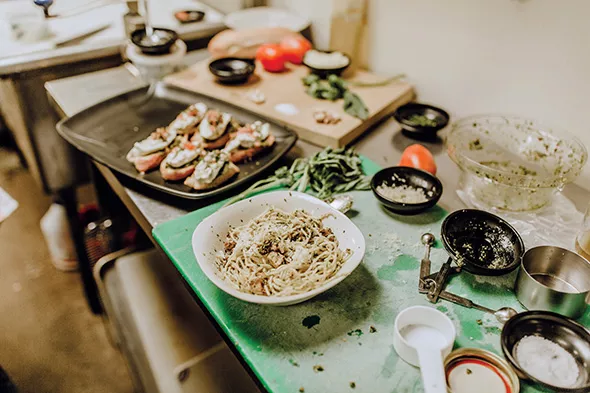 Cooking with medical marijuana can be a preferred delivery system because it is easier on the lungs than smoking and the effects last longer, but it can be a difficult process to get started.
Everyone is familiar with the trope of pot brownies, but cooking with marijuana can be much more refined than mixing ingredients into a batter and baking. The folks at Guyutes, 720 NW 23rd St. — owner Jarrod Friedel, who has a medical marijuana growers and processing license, and chef Matt Pryor — have developed some medical marijuana recipes outside their commercial kitchen that will cure your ailments without any cannabis aftertaste. First up is a pistachio pot-infused pesto crostino topped with burrata cheese and bruschetta.
The first step in cooking with medical marijuana is the decarboxylation process, which requires heat to separate the THC from the plant and make it ready to metabolize. It's the reason you can't eat marijuana raw and feel the effects — you must either heat it up by smoking, cooking it in a pan or cooking it in an oven with controlled temperature.
Friedel recommends breaking up the medical marijuana — 7-10 grams will be needed to make infused oil — either by hand or with a grinder. He cautions not to grind the flower into a fine powder. Lay out the marijuana on top of parchment paper on a baking sheet and preheat the oven to 220 degrees Fahrenheit. If the oven rises above 300 degrees Fahrenheit, it will burn the flower and rob it of its medicinal effects.
"I would get an oven thermometer and make sure your oven is actually at 220 [degrees Fahrenheit], and it's not at 250 [degrees Fahrenheit] and not calibrated very well," Friedel said.
He said to keep the flower in the oven for two to three hours until it starts to turn brown, which means the THC and cannabinoids are being released.
"You can go up to over three hours, and the longer you go … that just means it's going to be having more of a narcolepsy effect, so the longer you keep it in the oven, the higher sedative effect it's going to have," Friedel said.
THC is fat-soluble, which means oil, butter or ghee is the best delivery method for the medicine. Infused olive oil becomes the basis on which pistachio pesto is made.
Making the infused oil
Ingredients
1 cup of canola or olive oil
7-10 grams of decarboxylated medical cannabis
Instructions
1. Mix the oil and marijuana and apply low heat (140 to 160 degrees Fahrenheit) for 90-120 minutes. Do not let the oil exceed 200 degrees Fahrenheit or allow it to boil.
2. Remove the oil from the heat. Allow it to cool.
3. Strain the oil over cheesecloth into an airtight container for at least 45 minutes. Do not squeeze the cannabis flower.
4. Store any excess oil in a dark container in a cool, dry place. Refrigerate it to extend the shelf life to several months.
"If you go over 200 [degrees Fahrenheit], you're going to burn your oil and it's going to burn your weed and everything's going to taste disgusting," Friedel said.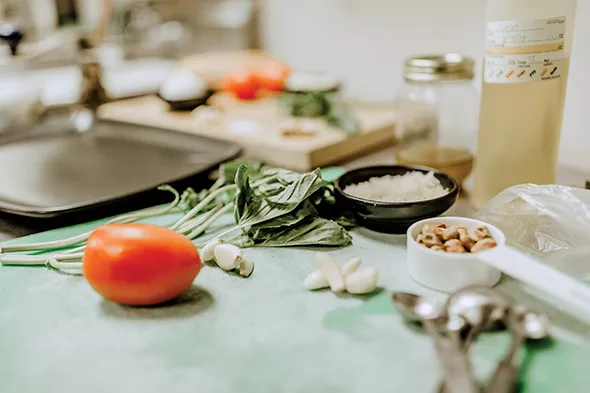 Pistachio pot pesto
Ingredients
1 cup basil
4 crushed garlic cloves
1/3 cup of unsalted pistachios
1/3 cup of finely grated Parmesan cheese
2 1/2 tablespoons of olive oil
2 1/2 tablespoons of infused oil
A touch of salt
Instructions
1. Add the basil, garlic, pistachios and Parmesan into a food processor. Process until finely chopped.
2. With the processor running, slowly add the oil. Add salt as necessary.
Add a scoop of pesto to the garlic toast, then cut fresh burrata cheese into quarters and put it on top. Mix fresh tomatoes and basil to re-establish the basil flavor.
"If there is any residual marijuana flavor, [the tomato and basil will] help kind of just soften it little bit; you're looking for the flavor," Matt Pryor said.
The dish is finished with additional infused basil pesto with extra oil to make it runny for added color and medicinal effect. Additional pesto can be combined with cooked pasta and chicken for an easy and simple dish.
Review
Marijuana edibles should always be eaten with caution because it is easy to eat too much. It's always better to under-dose than to eat too much and have a bad experience. It can take as little as 30-45 minutes for cannabinoids to metabolize into the blood stream and as long as three hours, and the duration can last between four and six hours, according to Weedmaps.
The single crostino is actually about two to three doses, depending on a person's tolerance level. There are 7 grams of medicine in one cup of oil, which equates to 1400 milligrams divided by 16 tablespoons, which is 87.5 milligrams per tablespoon. The recipe has 2.5 tablespoons and made eight servings, so each crostino has about 27 milligrams of medicine.
Weedmaps recommends an inexperienced person start with about 5 milligrams, intermediate about 10-20 milligrams and experienced can dose more than 20 milligrams.
I ate about half of a crostino, and it was hard not to eat more because there was no lingering "weed" flavor. I liked the robustness of the pistachio compared to the normal pesto nut of choice, pine nuts. You can use any nut of your choosing in the recipe, but pistachios don't need to be toasted and aren't a major allergen like peanuts.
It's hard to go wrong with any dish that is topped with burrata, which is made by mixing mozzarella and cream. There is an outer layer of solid mozzarella and an inner layer of soft buffalo milk and cream that is ooey and gooey. The tomato and basil topping complements the dish. It's not a normal bruschetta because there is no vinegar. Pryor said they tried variations with balsamic vinegar but thought it overpowered the pesto, which is a nice touch because the pesto is the star.
For medicinal purposes, I found the pesto had a good body high that eliminated anxiety without any major head fogginess. It lasted about four to five hours. — Jacob Threadgill