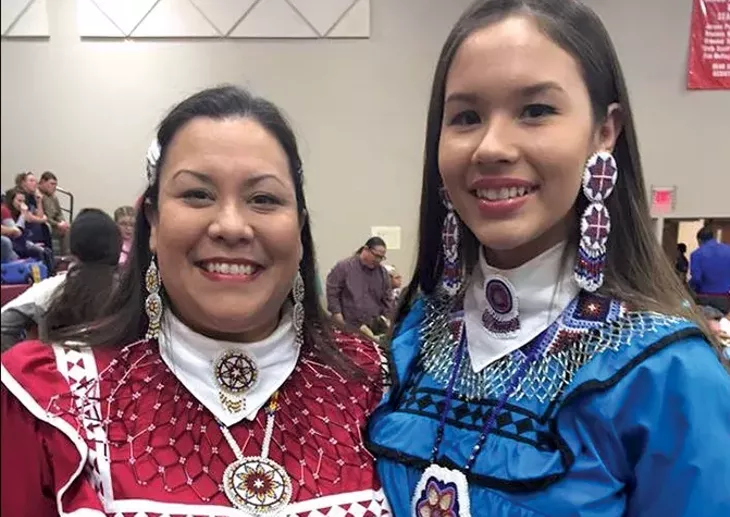 Bella Cornell, 17, remembers the day in middle school when her classmates asked her if she was a cannibal. The only Native American student in her Oklahoma City public school, Cornell was in history class when her teacher began describing Native Americans as savage barbarians who ate human flesh.
When her peers asked her if what the teacher said was true and if it was still true, Cornell froze and remained silent until she was home in her mother's arms, where tears were allowed to flow freely.
"It was one of the worst days of my life," Cornell said.
The teenager's mom, Sarah Cornell, didn't wait long before coming to her daughter's defense. Together, mother and daughter stayed up all night discussing what their ancestors were like and putting together a presentation they showed Bella's history class the next day.
"We gave them a real education," Bella said, "one that presented indigenous people in a historical context from the perspectives of white settlers and Native Americans as well. I really don't understand why all of history is not taught that way. Why don't we learn about history from every angle instead of just from the perspective of those who won wars?"
Bella recalled how in elementary school, her classmates were encouraged to reenact the land run from the perspective of white settlers who were allowed to stake land. What wasn't mentioned, she said, was how Native Americans were forced into homelessness and endured family separation, poverty, illness and even death along the way.
"It's not coincidental that only 59 percent of Native American children in Oklahoma City's public schools graduate from high school." — Sarah Cornell

tweet this
Once in high school, Bella corrected misconceptions again with the help of her mom in 2015 when the duo paved the way for Capitol Hill High School to remove the offensive Redskins caricature as the schools mascot.
By the time Bella's senior year rolled around, she was tired of taking on the burden of teaching, she said, when she should have been learning.
"It's not coincidental that only 59 percent of Native American children in Oklahoma City's public schools graduate from high school," Sarah said. "It's not coincidental that they suffer from depression and poor grades."
Bella's experiences are common, Sarah said.
"Native American students are struggling with their identity in school just by being minorities and by being young, growing adolescents. You add the negative and inaccurate messages teachers give them about their own culture and you have a recipe for depression," Sarah said. "Once depression begins, learning ends."
A 2005 study published by the American Psychological Association found that negative mascots, symbols, images and narratives of Native Americans create a hostile environment for Native American youth in public schools that could lead to mental health issues and poor grades.
Bella, a graduating high school senior hell-bent on going to college and becoming a psychologist, beat the odds, but her experiences left her and Sarah concerned for the family's youngest daughter, Gabrielle.
When Phil Gover announced his intention to create a Native American charter school in Oklahoma City, the Cornell family was overjoyed.
When the State Board of Education approved the school's charter on Aug. 23 after it was rejected twice by Oklahoma City Public Schools' Board of Education, Sarah began making plans for Gabrielle to attend as soon as possible.
Collective perspective
In January of this year, Gover introduced the concept of a charter school that would focus on education from a Native American perspective to Oklahoma City Public Schools Board of Education. The school would recruit Native American teachers and staff and would cater to students of every race, religion and culture. All common core curriculum would be taught, Gover said, but lessons would focus on the role subjects play in the lives of Native Americans.
"Lessons won't exclude anything," Gover said. "Our teachers will teach the same lessons that are taught in Oklahoma City Public Schools but will include a little more."
In the case of language lessons, Gover said, Sovereign Community School students will eventually have the option to learn a variety of Native American languages.
"There are 39 Native American tribes in Oklahoma," Gover said. "Our intention is to be able to serve students from all of them. So our lessons won't ever focus on one community in particular but will instead be taught from a collective perspective."
Subjects like math and science will be taught by including the contributions Native Americans made in each field and the role the subjects played in the lives of Native Americans throughout history and today.
The Oklahoma City Public Schools Board of Education struck down the idea, claiming that Sovereign Community School would encourage segregation.
"I know what the admissions policy is, but I know what the reality is," state board member Leo Baxter said. "It is a segregated school, for all practical purposes."
Baxter eventually voted in favor of the school's charter in August. Board member Cathryn Franks and State Superintendent Joy Hofmeister voted against the charter and both women declined to comment. The charter passed by a 5-2 vote.
Gover countered claims of segregation by stating that unlike historically segregated schools that mandated separation based on race, forced participation would not be a part of Sovereign Community School and all would be welcome to attend.
"Our school will not exclude non-Native Americans," Gover said. "But it will be certainly include Native Americans and teachings of our cultures and our contributions."
Sovereign Community School will take over the old Mayfair Elementary School near NW 50th Street and Independence Avenue and will open its doors to sixth- and ninth-graders in August of 2019.
Each year, Gover said, the school will add on additional grades and will eventually teach 500 students in grades six through 12.
For now, Sarah said, she can rest assured that soon enough, despite opposition, there will be a classroom for Gabrielle in which the one thing she will definitely not learn is that she doesn't belong.