CITY


---

Resolutions approved
Oklahoma City Council approved several resolutions during last week's meeting.
The council unanimously approved an ordinance to be introduced and set for two additional hearings. Jason Ferbrache, director of Central Oklahoma Transportation & Parking Authority (COTPA), presented the ordinance that essentially proposed an increase in fines for cars that obstruct the Streetcar's path.
"The ordinance that you have here is intended to help us further encourage people to park correctly along the Streetcar route," Ferbrache said. "One of our biggest obstacles in terms of operations is blockages along the route when individuals that are parallel parking are not parking properly – they're too far away from the curb or over the designated parking line — and it brings the system to a stop."
The ordinance would amend some parking codes to consider cars parked over the designated line or in the lane of traffic an "obstruction."
"We're specifying that if an individual is parallel parking along the Streetcar route, they must park within 18 inches of the curb or closer. There are no exceptions. Previous language referenced some exceptions," Ferbrache said. "We're recommending amending the fine section to increase the fine for illegally parking along the Streetcar route alignment to $130 from the standard illegal parking fine currently of $50. These changes are really being made in trying to encourage people to park correctly."
Ferbrache said the reason for the increase in fines is because illegally parking along the Streetcar route causes significantly more issues than illegally parking in other places since it shuts down the transit system while they locate the car's owner. He said on average it takes 15-20 minutes to identify the owner and get them to move their vehicle.
Ward 6 councilwoman JoBeth Hamon expressed concerns about the high fines, saying it could "sour" some people's experience of downtown OKC.
"It feels like we as a city could be more proactive and just not have parking along the Streetcar route because then we're taking the burden of that and not putting it on individuals," she said.
Ferbrache acknowledged that they are in a reactionary mode but don't want to encourage towing or citations.
"They're going to be judicious in the way they enforce this and use this, but it's just another tool for us," said city manager Craig Freeman. "I don't think it's going to be where we're all of a sudden out there writing a lot of $130 tickets."
A public hearing is set for March 17 with a final hearing on March 31.
Council unanimously passed another resolution to be introduced and set for a public hearing that would provide $200,000 for the renovation of the former Marcus Garvey Leadership Academy in northeast OKC.
If passed after the next two hearings, One Red Oak LLC would receive tax increment finance funds as they become available to redevelop the building into Harmony School Apartments, which are intended to be affordable housing for seniors.
Ward 7 councilwoman Nikki Nice emphasized that there have been several meetings with developers and the community to make sure they're intentional about the community being reflected in the future residents.
"We're all fearful of what gentrification has brought and what it will continue to do. We're all fearful of that, but until we as a community understand our empowerment for ourselves ... and are educating ourselves about what has happened, what took place and how we move forward for ourselves and our community, we're going to continue to be fearful," Nice said.
Anita Bridges with One Red Oak said one of the changes they made after those community meetings was to open up the residences for inter-generational families. This means only one member of the household has to be 50 years or older to qualify for housing.
It is set for public hearing and approval March 17.
Council also unanimously approved a public hearing March 17 to approve an allocation of nearly $6 million for renovation of Myriad Botanical Gardens' Crystal Bridge.
Myriad Gardens Foundation raises money to help supplement the maintenance and operations dollars from the Parks & Recreation budget. According to the presentation, the renovation is expected to cost $8.6 million, and just under $2.7 million of that will come from private funds.
The next meeting is 8:30 a.m. March 17 on the third floor of City Hall, 200 N. Walker Ave.
COUNTY

---

Jail employees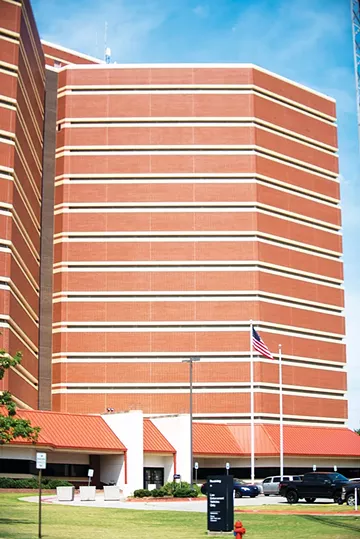 At the county level, Oklahoma County Jail Trust last week continued working through the transition from the county sheriff operating the jail to the jail trust and its administrator taking over.
"The transportation [memorandum of understanding] should be done within the next two weeks. The sheriff's office continues to work on finalizing the inventory to transfer over once you take over," said David B. Hooten, Oklahoma County clerk. "Several items that are on our agenda that are incomplete are reduction of force cost, payroll time table, computer, phone and other tech needs and insurance policies and surety bonds. Until we have a definite date that the trust will take over the operation of the jail, we won't be able to make some recommendations."
Greg Williams, who was recently hired as the new CEO of the jail trust, reported that he hired three former Department of Corrections (DOC) employees for the jail's new administrative team.
Former DOC HR attorney Michele Minietta was hired by Williams as the HR director and has already began. Former DOC regional training director Don Givens will lead personnel training for the trust starting March 15. And DOC regional director William Monday begins April 1 as Williams' second in command.
Williams said they all have a vast amount of experience and will bring a high level of expertise to the trust.
The trust also approved moving forward with properly using the domain name okcountydc.net in official capacities.
The next meeting is 1 p.m. April 6 in Room 204 of Oklahoma County Office Building, 320 Robert S. Kerr Ave.
CAPITOL

---

Capitol advocacy
At the state Capitol, various groups hosted advocacy days last week.
Freedom Oklahoma and LGBTQ+ advocates were urging lawmakers to support a bill that would ban conversion therapy for minors.
Oklahoma Policy Institute's grassroots advocacy arm, Together Oklahoma, delivered a petition to the governor's office to officially put Medicaid expansion on a ballot. The petition had more than 1,000 signatures.
Supporters of the Medicaid expansion ballot initiative, or State Question 802, made history by turning in more than 300,000 signatures for the proposal that would expand Medicaid through a constitutional amendment.
Stitt has said he opposes expanding Medicaid through a constitutional amendment. He said he has been working on an alternative plan, initially expressing interest in a block grant program but most recently saying the state will submit what he's calling SoonerCare 2.0 to the federal government for consideration.
"People are tired of waiting," House Minority Leader Emily Virgin said in a statement. "The governor wants to do everything he can to keep Medicaid expansion out of the state constitution because he knows he can't touch it once it's constitutional law, which means he can't take away health coverage from hundreds of thousands of Oklahomans who need it."