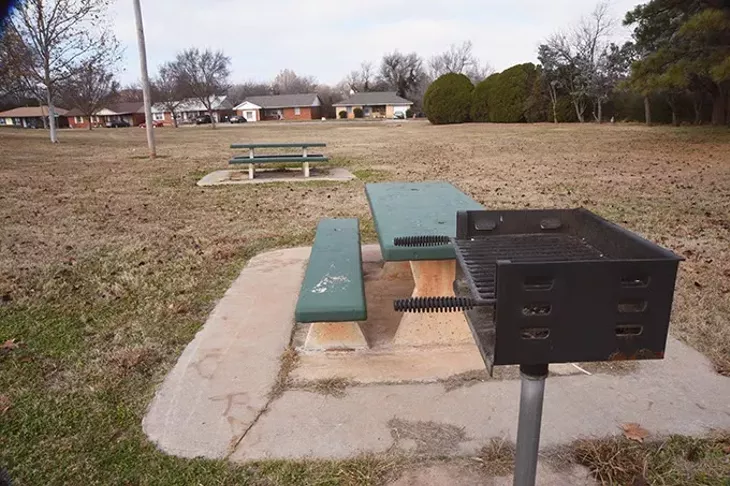 "No golfing," reads one of eight prohibitions on an Oklahoma City Parks & Recreation Department sign standing ironically on the lip of McNabb Park in northeast Oklahoma City.
McNabb Park is not listed on the Oklahoma City Parks Department website, and if it were, it would not feature any of the corresponding abbreviations attached to other parks: "P" for playground, "BB" for basketball court, "WP" for walking path. Instead, McNabb Park features two picnic tables, a tiny charcoal grill and its aforementioned sign.
"We used to call it The Field because we didn't even consider it a park," said Coletta Brewer, who has lived next to McNabb Park off and on since 1968. "There's nothing out there. You could take your lawn chairs, I guess."
While Oklahoma Gazette spoke to several OKC residents who are proud and satisfied with their neighborhood parks, many individuals expressed hopes for an improved and better-funded parks system.
Douglas Kupper once worked as a National Park Service interpretive ranger in the Florida Everglades. Now he is the first new director of OKC's Parks & Recreation Department in 18 years.
"Everything is so dynamic here in Oklahoma City," Kupper said recently, six months after accepting the job and leaving the same position in Wichita, Kansas. "The single greatest opportunity is that everybody is on the same page and it's all about quality of life."
That's how Kupper hopes to improve McNabb Park and others like it.
"We're ready to come meet with neighborhoods adjacent to parks to get their ideas on improving quality of life through their park," he said.
That sounds like music to the ears of David Starks, president of the Capitol View Neighborhood Association, which covers more than a square mile from N. Lincoln Boulevard to N. Martin Luther King Ave. and from NE 23rd Street to NE 36th Street.
"It is such a neglected park," said Starks, who lives only a couple of blocks from McNabb. "We want that to be a thriving park where kids, adults and senior citizens can come and feel safe. I believe that's critical."
As it stands, mice and other vermin likely feel quite safe in McNabb Park, west of N. Kelly Avenue along NE 34th Street. Starks, Brewer and other nearby residents all confirmed the park is rarely occupied by people, has no programming and is regularly overgrown.
"It needs a haircut on a frequent basis. Let's put it that way," said Starks, who is also pushing for sidewalks, lighting and other neighborhood improvements. "A park has to have life in it: beautiful trees, cut grass, equipment in it. We've had discussions about this, but it never seems to go anywhere. We've got all kinds of issues that we often try to get city officials' attention about."
Georgie Rasco is the executive director of Neighborhood Alliance of Oklahoma City, and she also has high hopes for all OKC parks.
"It's a really important time for parks," Rasco said. "My No. 1 goal is for (our parks) to be maintained at a level that would make us all very proud of them. Currently, the Parks Department budget hasn't allowed them to do that. There are all sorts of problems I know our Parks Department are aware of and would love to fix, but they don't have the funds or the people power."
Rasco said the department has seen many success stories of late, mostly involving neighborhoods working with the city to improve and develop parks like Belle Isle Park (formerly Ross Park) and Tulsa Park in southwest OKC. She praised Kupper's fresh leadership at the department, and she reiterated the need for discussions with neighborhoods that can foster park development and innovation.
"My wish would be that our next MAPS would be a MAPS for neighborhoods, and the core of that would be parks," Rasco said. "Do you want art in it? Do you want an art walk? Do you want it to represent the cultural part of town you live in? Having those neighborhood plans would be time-intensive but so worth it for the legacy it would leave."
Kupper believes that is his job, and he hopes to provide "better programming for all ages" at parks and city recreation centers, one of which — Northeast Center Park — is about half a mile from McNabb Park.
To do these things, Kupper and the city will need funding. That will likely come from municipal bond issues, assuming voters continue to support them, something the OKC electorate did not do from 1974 to 1995.
Kupper said that lack of bond funding resulted in deferred maintenance and little investment in OKC parks for more than two decades.
"Consequently, the 1995 bond, a lot of that went into trying to repair things that went unrepaired for those 20 years, so you really don't get ahead of the game," he said.
Print headline: Park improvements, OKC parks might be getting improvements soon thanks to new management.