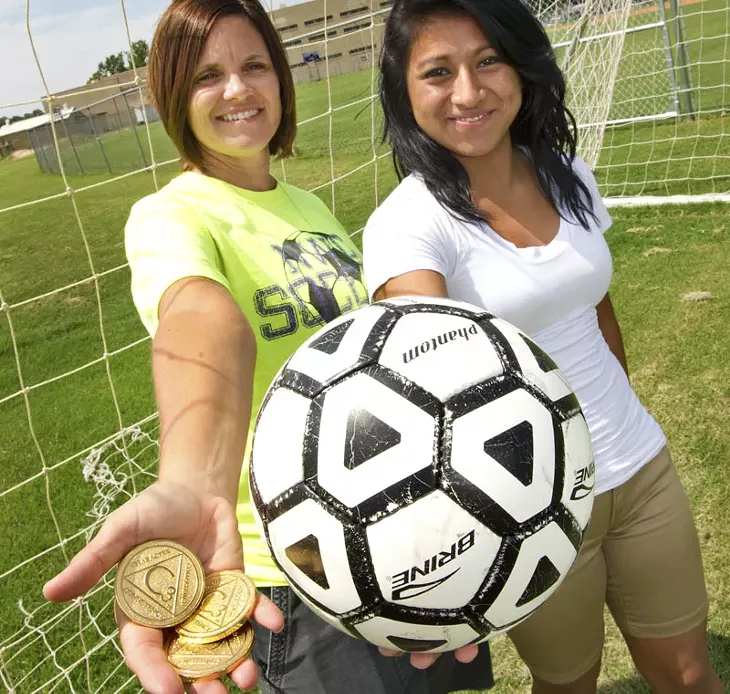 Oklahoma City Public Schools Athletic Director Keith Sinor believes the win-at-all-costs mentality of professional and collegiate sports has crept into high school athletics and that prep sports need a renewed commitment toward character-building, not just points, statistics and scholarships.
"High school sports, in years past, was about building character and really trying to help the athlete grow as an individual," Sinor said. "Somewhere along the way, we have lost that ... it's become more about the wins and losses."
After experimenting with the program in a few schools last year, the Oklahoma City Public School district unveiled Elevate to all its high school coaches this summer. Elevate assists high school coaches in recognizing character in athletes and guiding teams through a weekly curriculum.
"We want them to add this to their practice planning," Sinor said about the Elevate program, which launches this fall. "Do a little bit less work on the fundamentals and take about 10 minutes out of their practice time to implement this."
At a meeting with coaches last month, Sinor passed out boxes to each athletic program. Inside each box was a DVD offering training to coaches, commitment cards for athletes to sign and 10 large gold coins representing different character traits.
"Sports cannot create character, but coaches can," said Nathan Mellor with the Academy of Sports and Character, the Oklahoma City-based organization that created Elevate. "The idea is to focus on character with students. We want coaches to be able to catch their students doing it right."
During the high school sports season, each coach will hand out one coin a week based on that week's theme, which will include alertness, courage, determination, responsibility, honesty, self-control, loyalty, flexibility, enthusiasm and respect. For example, during the self-control week, a coach will award the player who exhibited the most self-control with a C3 coin, and each school is encouraged to promote the award online and throughout the school.
"We are very excited about this program that we have been working on for several months, and really for more than a year," Mellor said. "Oklahoma City is a special pace to all of us, and part of what we want it to be known for is the athletes we produce and the character they have."
In action
Cindi George, a softball and girl's soccer coach at Northwest Classen High School, was one of a few coaches to try the program last year.
"It reminds you on a daily basis to focus on these aspects," she said.
George worked the character traits into her practices and even remembers picking up her Elevate book during a post-game meeting.
"I can recall a time where we were in a tournament and we had really played very poorly one day," George said. "I remember picking up my Elevate book and said, 'You guys aren't even going by this.'"
The next day, George heard some of her players yelling out, "Elevate," during practice in an effort to motivate and encourage each other.
Each high school will also receive a banner for athletes to sign, committing them to play with character.
"You hear all the time about the wins and losses, but we feel the lessons the kids need to learn [are] the character aspects," Sinor said. "We want to equally recognize those aspects. They are of equal importance [to athletic ability], if not more important."
The launch
The Academy of Sports and Character is a division of Strata Leadership, an organization providing character-based leadership resources to companies. Oklahoma City is the first district to embrace the Elevate program, which was funded by the Wes Welker Foundation, a nonprofit launched by the NFL and college football standout from Oklahoma.
"This is probably the most exciting thing we have done since we created the Wes Welker Foundation about a decade ago," said Lee Welker, brother of Wes and one of the founders of the organization.
Lee Welker said he coached for several years at Heritage Hall High School, where he learned how important coaches are in a student's life.
"Coaches just have the ability to make such a huge impact in kids' lives," Lee Welker said. "[Coaches] have a million things on your mind, and maybe the last thing on your mind is, 'How am I going to create character in my kids?' This helps you do this."
For those who doubt the need for character-building in high school sports, there are no shortage of examples from college and professional ranks that highlight how sports, like every other facet of life, can fall victim to unethical behavior.
In addition to highlights and scores on ESPN, it seems an equal amount of coverage is paid to DUIs, domestic abuse and other legal and moral ills. But character-building in high school sports isn't merely about helping future collegiate and professional stars.
Most high school athletes will not take their talents to the next level and will instead become doctors, teachers, police officers and nearly every other common American profession.
"We talk to employees who say the kids that played sports in high school are better employees, and there is a reason for that," Mellor said.
While there are plenty of examples of a lack of character in professional sports, Mellor reminded coaches last month that moments of character by the biggest stars of sports can also be found.
"Would you have wanted Kevin Durant to be your son after standing up there and giving that speech? How come?" Mellor asked about Durant's 2014 NBA Most Valuable Player acceptance speech, which drew attention for his focus on his teammates and family. "Character. It's because he showed character."
Print headline / Rise Above - OKC schools are using new program to boost the character of student athletes