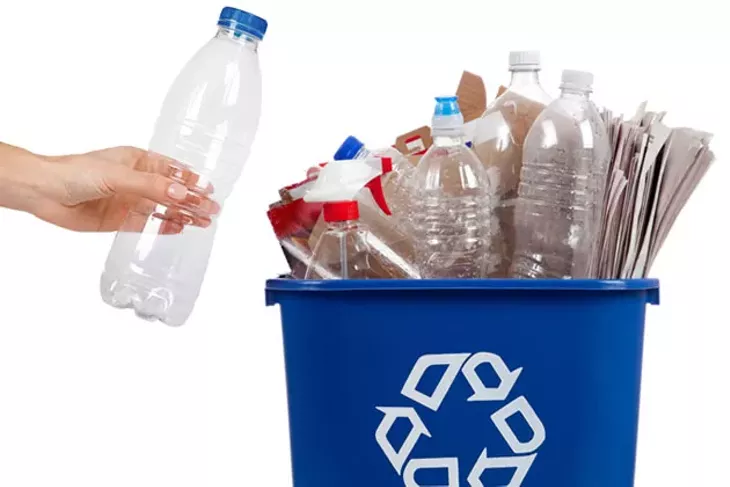 The empty recycling bins that are on display in the fitness center at the Oklahoma City Golf & Country Club in Nichols Hills are indicative, residents said, of the city's past reluctance to establish a recycling program due to cost concerns and the national pause placed on recycling due to China's recent ban on recyclable imports.
"They've always been there," Nichols Hills resident and personal trainer Alyssa Lutz said of the recycling bins at the country club. "I assume they use them, but you never know."
Since the city's establishment in 1929, Nichols Hills has never maintained a long-term recycling program, city manager Shane Pate said. The city attempted to introduce recycling to the community in 2013 and again in 2017, but both trials were a bust.
"We've gone to great lengths to try to establish a recycling program in Nichols Hills," Pate said. "We took a community poll to determine how residents felt about the idea, and the results we received showed that they are overwhelming opposed to it."
Residents currently pay a monthly fee between $40 and $44 for biweekly houseside trash pickup. Houseside pickup differs from curbside pickup in that trash containers must be stored and placed for pickup along a side of the house that is shielded from the view of neighbors and traffic.
Nichols Hills uses manual trash pickup as opposed to an automated pickup system in which a truck's mechanical arms lift and empty containers. A manual trash pickup system requires sanitation employees to get out of their cars and manually pick up and empty containers, being sure to collect any debris that falls on the wayside. The system is great for curbside appeal, Pate said, but costs more.
To maintain the recycling program that was introduced to residents in 2017, Pate said, they would have had to pay an additional monthly fee of $27.50. Had residents chosen to opt for curbside pickup, that fee would have been reduced to about $5.
"It doesn't reflect well on Nichols Hills to be a modern city with affluent residents who choose not to recycle." — Alyssa Lutz

tweet this
"It's a mentality," Lutz said. "Picking up and sorting trash is not fun, but neither is picking up after your dog when he goes to the bathroom in the park. It's not fun, it's not pretty, but it's the responsible thing to do."
To ensure that she is able to recycle while living in a city without a recycling program, Lutz said she saves her recyclables each week and drops them off at a friend's house in Oklahoma City. OKC launched its new curbside recycling program in July.
According to city websites, OKC residents pay about $22 once a month for recyclable and trash pickup. Edmond residents pay a base rate of $14.23 per month, and Midwest City residents pay a base rate of $14.45.
"It doesn't reflect well on Nichols Hills to be a modern city with affluent residents who choose not to recycle," Lutz said.
Fellow Nichols Hills resident Shelly Reynolds grew up in OKC but moved to Nichols Hills two years ago. Recycling, she said, is a hard habit to quit.
"If you're raised to be environmentally aware and conscious, not doing so all of a sudden becomes somewhat painful," Reynolds said.
Like Lutz, Reynolds takes her recyclables to friends and family in OKC.
She said her teenage daughter is part of a group of Nichols Hills youth members who are organizing a team to reinstate recycling.
Even if residents were to approve of the change, Pate said, there would be no place for recyclables to go.
"Communities across the nation may soon be in the same situation we are in," Pate said, referring to an embargo that China placed on imported recyclables in January.
The U.S. is one of several first-world nations that exported recyclables to China for processing. In an effort to minimize pollution, China placed the ban on over two-dozen materials that make exporting recyclables to the country nearly impossible.
While recycling efforts have been put on hold in Nichols Hills, Lutz said there are things that residents can still do to minimize the amount of trash that eventually piles up in landfills across the state.
"Reduce and reuse," she said. "Those two are just as important as recycling, and really, that's how recycling begins. First, minimize the amount of trash that you produce."
One way to do that, Lutz said, is to follow the example of major national companies that are paving the way to a greener future.
According to Earth Day Network, this year's Earth Day was dedicated to ending plastic pollution. A study launched by the organization revealed that if our plastic consumption habits remain consistent, by the year 2050, there will be more plastic in the world's oceans than there are fish.
In response, companies like Starbucks and McDonald's have publicly announced efforts to minimize their plastic waste products.
"Why can't we mimic these national efforts here?" Lutz said. "Why not in Oklahoma? Why not in Nichols Hills? It starts in our kitchens."
To demonstrate how recycling can be done cleanly and with minimal effort, Reynolds said she agreed to host a home tour for her daughter's high school class.
"I think it's important for me, as her parent, to show her that even the smallest amount of consciousness makes a difference," Reynolds said. "If she starts making these efforts now, I know they'll become lifelong habits."
Lutz said her daughter, who is in her 20s, is on point with the average millennial who, according to a report released by marketing agency The Shelton Group, heavily values environmental conservation efforts. The Shelton Group's latest research revealed that 70 percent of millennials said a company's environmental focus impacts their purchasing decision.
"She bought me a reusable straw, put it in my car and reminds me every time I go through a drive-thru that I have no excuse not to decline a straw," Lutz said. "At first, it just seemed funny, but when I really thought about how many straws in a lifetime I won't be using, I was kind of taken aback."
Lutz and Reynolds said if small steps toward recycling can be taken now, they won't seem like drastic, imposable chores once a recycling program is eventually established in Nichols Hills and residents might not be so resistant to change.
Eventually, they said, the change will be in the trash.