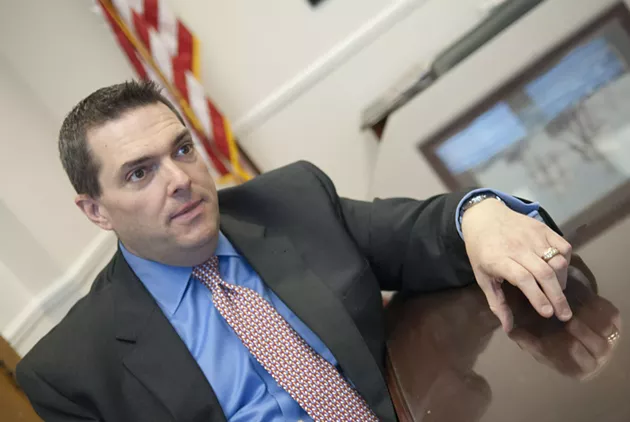 Lawmakers credit legislation passed last year for drastically reducing the number of methamphetamine labs in Oklahoma.
Authorities in Oklahoma closed 410 meth labs in 2013, which was a reduction of more than half of the 830 labs that were shut down in 2012, according to Consumer Healthcare Products Association.
The Oklahoma Legislature agreed to join a national registry that puts limits on pseudoephedrine sales in Oklahoma and dozens of other states, including Kansas and Texas.
Pseudoephedrine, which is commonly found in cold and allergy medicines, is also used to make meth. Lawmakers had considered requiring a prescription for the drug, but the registry was seen as a better alternative.
"The concern we had [for requiring a prescription] would mean that every time grandma is sick, grandma has to go out, go to her doctor, pay the copay and do the things she needs to do to get a prescription," said Sen. Clark Jolley, R-Edmond, who helped write the registry measure. "The reality is she may just have a stuffy nose and she can just pick something up at the drugstore."
The National Precursor Log Exchange, or NPLEx, registry provides real-time monitoring of pseudoephedrine sales, preventing individuals from reaching their limit in Oklahoma and traveling to another state to buy more. — Ben Felder
Council prayers ruled constitutional Starting a city council meeting with a prayer that favors one religion was ruled constitutional by the U.S. Supreme Court following a 5 to 4 ruling last week.
In a case that challenged a New York town's practice of starting its council meetings with a Christian prayer, the court ruled that the constitutional prohibition against government establishment of religion was not violated when a religion-specific prayer is offered.
Like many cities, Oklahoma City begins its council meetings with a prayer from a member of the local religious community.
"I think we have had almost every religion out there in the past," said Steve Hill, chief of staff for Mayor Mick Cornett. "We reach out to any and all religions."
Hill said no one has ever declined an invitation for religious reasons, and the city does not give any guidelines for the prayer, other than to keep it brief.
"We don't tell them what they should or shouldn't say," Hill said. — BF
Dorman criticizes Fallin over execution investigation
Rep. Joe Dorman took his first public swipe at his gubernatorial opponent over last week's botched execution.
"I'm here to demand a true independent investigation into the irregularities surrounding the execution of Clayton Lockett last week," Dorman, D-Rush Springs, said in a press conference last week at the State Capitol.
Dorman said he disagreed with Gov. Mary Fallin's appointment of Department of Public Safety (DPS) Commissioner Michael Thompson to lead an investigation into an execution on April 29 that took nearly 45 minutes to kill Lockett before he eventually died of a heart attack.
"No matter how you look at it, Commissioner Michael Thompson cannot be an impartial witness and investigator," Dorman said.
Fallin's Director of Communications, Alex Weintz, issued a written statement following Dorman's press conference, calling his statements politically motivated.
"The governor takes her role in the criminal justice system seriously and is not going to join Rep. Dorman in trying to make the execution process a campaign issue or a forum to attack the death penalty in Oklahoma," Weintz said.
"Furthermore, Clayton Lockett's autopsy is being conducted in Texas by the Southwestern Institute of Forensic Science, assuring the medical review of his execution is independent and conducted by an accredited organization."
Last week, the Oklahoma Court of Criminal Appeals announced its decision to delay the execution of Charles Frederick Warner for six months. Warner was originally scheduled to be execution on the same night as Lockett. — BF
The Joy Mennonite Church held a Public Confession for Involvement in the Culture of Death on Friday.