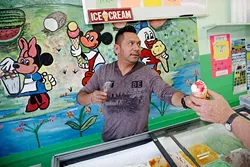 Editor's note: This story is part of a monthlong series that explores the neighborhoods in urban Oklahoma City. Pick up next week's Oklahoma Gazette for more coverage.
Nestor Garcia reaches into the ice cream case and scoops out a ball of chocolate chip, the refrigerated air offering a sense of relief on a mid-80s spring day.
"We have different flavors," Garcia, who operates Neveria La Fuente De Michoacán, said, not about the offerings of ice cream in his shop, but the cultural offerings found within just a few blocks.
On the western end of The Windsor District, a community of businesses and homes along 23rd Street, mostly between MacArthur and Meridian avenues, Garcia's shop is just one of several restaurants and businesses that offer a unique cultural experience. West Africa, Latin America and India are just some of the lands with a presence in one of Oklahoma City's most diverse communities.
"You could go around the world over here in one night if you wanted to," said Barbie Smalley, business liaison at The Windsor Area Business Group and director of The Windsor District.
Smalley lists off a possible itinerary of one night's entertainment that includes Ethiopian cuisine at Queen of Sheba, bellydancing at Gopuram Taste of India and pastry desserts at Feria Latina.
"We like to say, 'Think globally, travel locally,'" Smalley said.
Intelligent development During a time in Oklahoma City when dozens of urban neighborhoods are in the process of redeveloping after years of neglect, Windsor has its own aspirations of becoming a success story. Marketing its international flair is one attempt to stand out, along with continuing to develop a community that is alive with a mixture of local and national businesses.
"I really think we are starting to develop awareness of this area," said Rick Hutzenbiler, owner of Smokey's BBQ and Diner. "I really think we are developing a close-knit group of people who are trying to make this area better."
Like Uptown 23rd, the Plaza District and many other inner-city districts, Windsor experienced a decline in commercial and residential activity over the past few decades when the malls and shopping centers of the outer suburbs were built.
However, Windsor is in a unique position as an inner-ring suburb; while the city center and outer suburbs continue to see new development, Windsor is faced with revitalizing rundown strip malls that are already home to businesses. In addition to its commercial centers, the district is made up of modest neighborhoods and apartment complexes.
Blank canvas Windsor feels like an up-and-coming neighborhood that lacks the trendiness of other communities in the process of redevelopment closer to the city's core. It is a blue-collar community, where the expansion of evening bus service has been an important addition and home prices are much more affordable than those neighborhoods around downtown.
"We are an established community that also has a blank canvas," Smalley said. "The neighborhood has different sections that have potential, if you have the right vision."
Most residents see Windsor Hills Shopping Center as the community hub and the place where most economic activity takes place.
"We wanted something local that we could kind of be more hands-on with," said Grant Soderberg, whose firm, Square Deal Capital, purchased the shopping center last year. "We feel like the area is going to grow over the next five and 10 years."
You won't find specialty coffee shops, art galleries or boutiques in the shopping center — not that residents wouldn't welcome that, Smalley said. Instead, tenants like T-Mobile and Crest Foods have found success. Business leaders say having a local owner of the shopping center has made a huge difference after years of an out-of-state ownership group.
"The community is very deep," Soderberg said. "They care a lot about their area; they care about the perception of the area."
Private investment isn't the only thing making a difference in Windsor. The city has played a part with street and sidewalk repairs, along with increased police presence through a grant-backed patrol program.
Police designated a part of the city that included the district as a high-crime area a couple years ago, and through a Safe Oklahoma Grant, law enforcement says it is making a difference with increased patrols and deeper relationships with apartment managers and business owners.
"It gives me hope that you have this area of the city that is a true village and it's growing," said Kim Cooper-Hart, a planner with the City of Oklahoma City who works with inner-city communities like this one.
Cooper-Hart views Windsor as a place that offers affordability and space for families that might not be looking for the high density of downtown or Midtown.
"We've had a lot of voices that say we need to build downtown and bring people downtown, and I agree with that completely. But there are people who want to have a suburban life, and that's not an evil thing," Cooper-Hart said. "I think Windsor is one of those neighborhoods that helps people experience a part of the American Dream. Windsor is a good, central, middle-class community, and that's a part of our country that we are losing. It's exciting to see Windsor coming back."
Print headline: Discerning design, The Windsor District thrives due to its eclectic blend of worldly culture and business diversity.