click to enlarge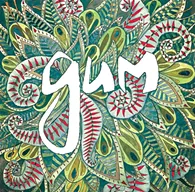 Confidence — lots of it — is required to make a statement as centered as Oklahoma City indie rockers Gum do on their eponymous debut.
An exercise in restraint, its nuanced compositions are familiar, but with an offbeat varnish. There are nice little choruses, but they refuse to rely on easy (lyrical or structural) clichés to get by. It stands out in the open, not in a shroud of guitar fuzz or thundering percussion.
And for that, Gum is rewarded with a record that is cohesive but rarely repetitive, sonically interesting but heart-swelling. It's a long-labored-over album years in the making, and that shows in the airtight narrative that unfolds over the course of its clean — we're talking Mr. Clean immaculate — execution and musicianship that voices said account.
But the album also shows signs of being tinkered on overlong. Any lost sense of urgency is mostly made up for by its thoroughness, but Gum could stand to get a little messier, too. It has the feel of an album that has a totally vital (and even, as said before, brave) sense of gravity, but Gum might have let itself become too subdued by it.
That's odd for a band that brings in such a wide and largely weird array of influences (they tout Brian Eno, Television and Big Star as inspirations online). If the six-piece has found its own identity, it's in a formula that values its influences in a novel fashion while not necessarily adding up to more than the sum of its parts: adventurous guitar tones suggestive of Halcyon Digest (pockets of "Golden Years"), the timelessly simple pop of Dye It Blonde ("Weird Dream"), the moody, post-punk antics of Turn On the Bright Lights ("So Long Ago").
But Gum is not as wild as Deerhunter, as nimble as Smith Westerns or as chic as Interpol. The band pulls it back in an attempt to make it all meet in the middle, not necessarily playing it safe but being a tad stubborn, especially as the undeniable musical prowess suggests its members are capable of reaching out further.
Being an earnest, piano-led indie band all but guarantees a nod to Spoon, and certain unnerving (for better or for worse) moments — like in "Roll Me Over" and "Loves Her," which echo Ga Ga Ga Ga Ga and Gimme Fiction, respectively — make it a necessary one. But these songs are also the brightest spots that provide a peek behind the curtain into the massive potential Gum possesses.
The beginnings of each cling tightly to the template, but the later movements start to resemble a form of their own, finding a way to connect the dots instead of just making sure they overlap from the start. "Care About Nothing" and "Into the Sea" are similarly winsome in their levelheaded approach to theatrical, bouncy indie pop, built with both delicate stitching and comfortably frayed edges.
Gum was definitely a battle of knowing when to go into combat and when to stand pat. But with a firm foundation built in the form of this first disc, the landing pad will make a leap of faith a more manageable proposition.