click to enlarge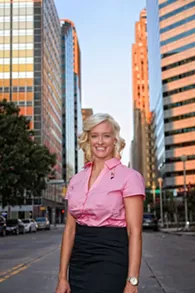 A special election is underway in House District 85, which includes portions of northwest Oklahoma City. One Democratic candidate has filed for the September general election, but four Republican candidates will square off in a July 14 primary.
In the lead-up to the primary election, Oklahoma Gazette will present Q&As with candidates vying for the open seat. This week's conversation is with Amy Palumbo, a former criminal prosecutor.
Oklahoma Gazette: Following your narrow loss in the Oklahoma County district judge race last year, how energized were you to run another campaign?
Amy Palumbo: I challenged an incumbent district judge, and it was a countywide race where we had basically no outside help and not a lot of funding. But it was a phenomenal experience. We lost by half of one percent, but I thought it was a really rewarding experience. I really enjoyed it in the context of getting a chance to say, 'Hey, I'm your neighbor. What would you like to see in your leadership?'
I had so many people say, 'You've got to do this again.' My friends would remind me that God's timing is perfect and maybe I lost this election because he has something in store for me where I can help more folks.
OKG: It sounds like you consider yourself to be a very open representative.
AP: I think a lot of [lawmakers] forget they don't own these seats; the taxpayers own the seat. If I win this, it is not going to be because I'm a political insider; it will be because voters like me and trust me because I'm genuine.
I've got my cell phone number on all my literature, and that number won't change. I'm telling folks to hold on to this, and next year, if you have an issue, you'll be able to get a hold of me.
OKG: Military and veteran issues are something you talk a lot about.
AP: My very first memory when I was a little girl was every single day before my dad would go to work ... he would grab my hand, pull out our American flag and walk out on the front porch and put it up. Every night when he came home, after we ate dinner, we would go out and take it down. Every house in our neighborhood had a flag.
I'm married to a Marine and am the wife, daughter and granddaughter of veterans. It absolutely is close to home for me on a daily basis that men and women are overseas dying and risking their lives for our freedom.
OKG: Oklahoma has one of the worst ratios of female lawmakers in the nation. What would your election mean for the Republican Party and state when it comes to gender representation?
AP: Oklahoma is 49th in the nation for female representation, and that doesn't look good for not only our party but the state. I think that is an important facet that only I bring to the table.
OKG: HD85 has elected a female representative before, including Odilia Dank and Gov. Mary Fallin. Another northwest OKC district also elected a female Senator in Stephanie Bice last year.
AP: I think that shows that we have some very savvy voters who will be willing to look at the candidate's qualifications and their demeanor and their experience and elect who they feel will best represent them. I think it's really exciting to be running in District 85, which has that legacy of supporting women candidates.
OKG: What issues are you uniquely qualified to address if elected?
AP: Perhaps it's because I'm a former prosecutor, but I have had many, many folks mention public safety to me as a concern in the district. Something that sets me apart from my competitors is I am a former prosecutor, and I've prosecuted hundreds and thousands of domestic violence cases. I'm used to having to go toe-to-toe and fight every single day for what's right. I'm used to having to stand my ground, and I think that we definitely need that at the capitol. Very few people in our Legislature have any type of courtroom experience. I see every day how laws that were drafted with the best intentions are not working. I know what a law that works looks like.
OKG: What is your view on public education and school choice?
AP: We have a little girl who started school this year, and we sent her to Harvest Hills Christian Academy, and we are thrilled with that. But we are very blessed to be in a position to make that choice. Most people in the state can't do that, and it is imperative that we give all of our kids the best opportunity and the best education that we can and hopefully keep them here. In a nutshell, I support a plethora of diversity, and whether that is charter schools, vouchers, private schools, home schools, I think parents need to be able to have a say in what they feel the best options for educating their child is.
OKG: There have been several local control issues Oklahoma City has fought the state on. How do you view some of these issues?
AP: I'm going to be honest, and I've been honest with the voters on this. This is something I would need to look more into. But one of the Republican and conservative ideas is less government. I am going to approach every single issue ... through a conservative, Christian lens first and foremost, and I'm going to do the work and research to feel adequately prepared and talk to both sides.
OKG: Back to the gender ratio issue. How special would it be, if you won the primary, for two women to be seeking the general election?
AP: I think it would be incredible. I think that Cyndi [Munson] is working very, very hard, and I think of the four candidates, I am the one that stacks up toe-to-toe with her all the way across the board.
One of her big platforms is women and girls, and I have helped hundreds of women and girls in Oklahoma, protecting them from domestic abusers. I'm a wife and a mother, I have owned my own business, I've got a lot of experience dealing with laws, and I think that it's imperative that the voters take that into consideration because I do think that the Democrats are desperate to win the seat.
Print headline:
Primary color,
As House District 85 heads into a primary vote on July 14, Republican candidate Amy Palumbo does an Oklahoma Gazette Q&A.