click to enlarge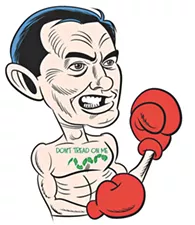 It seems like this would be a rhetorical question: Should a man convicted of domestic assault be the political director of the Oklahoma Republican Party?
But thanks to party chairman Randy Brogdon, who appointed T.C. Ryan to the position, state politicos had to deal with it as a reality.
In 2012, Ryan pleaded guilty to domestic assault and battery in the presence of a minor child and interference with an emergency telephone call in Tulsa County District Court. He was sentenced to probation.
While Oklahoma County GOP officials called for Ryan's ouster, Brogdon doubled down, saying it was a tactic being used by establishment Republicans to take down the grassroots party leadership.
The motives behind the fight are irrelevant, though. As Oklahoma continues to grow as a destination for economic development, it's troubling that the state's most powerful political party didn't recognize how detrimental it is to have a man who recently pleaded guilty to domestic assault in a position of authority.
Brogdon was quoted in the Tulsa World on the controversy, saying, "When I do engage, I will engage with full force, and I will win this fight."
Ryan has since resigned.