click to enlarge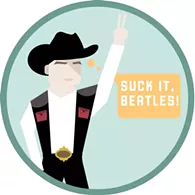 It's no secret that a lot of people like Garth Brooks. It's why he's the best-selling musician since Nielsen SoundScan began tracking sales in 1991. But things are about to get even peachier for Brooks, as he stands to sell even more once he offers digital downloads through garthbrooks.com — and at a "stupid price."
"People are going to mistake (stupid-cheap downloads) for giving it away," Brooks told reporters last month, "but I'm not."
If he sells a million downloads — which should be available very soon — he'll likely surpass Elvis as the best-selling solo act of all time, putting him up over 135 million albums sold. Heck, The Beatles (177 million units sold) might even be within his reach after he releases his forthcoming 11th studio album later this year.
That's right, the 52-year-old country icon could one day become bigger than The Beatles. Garthmania is still real.