click to enlarge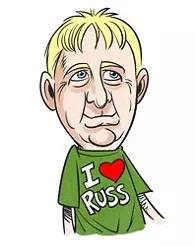 Larry Bird loves us!
Well, not "us," per se, but close enough.
Larry Bird recently got all gushy-wushy over Oklahoma City Thunder pro-baller Russell Westbrook, saying he "hopes he wins 10 MVPs in a row" because of how well the Thunder star's been handling the ball.
(On the court! Don't send the license plate police after us, please!)
"Here's a young man that has had serious injuries — bad knee injuries throughout his career — yet every time he walks on the court, you know you're going to get 100 percent from him. He attacks, he's fearless and he plays the way it should be played, so I'm all for him," the b-ball king said on NBC Sports' ProBasketballTalk show.
If this isn't validation that Oklahoma City is a big-league city, we don't know what is.