click to enlarge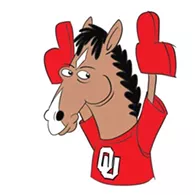 The Sooners recently fired a mascot for taunting OSU fans during the Bedlam basketball game.
"WTF? I thought that was part of a mascot's job?" you might be thinking. But, alas, it is not when you take it to extremes, as this mascot did.
"The mascot blocked OSU fans' vision of the game, taunted them and spilled popcorn on a group of them that included Heather Ford (the wife of OSU coach Travis Ford)," sources told NewsOK.com.
All of this is considered unsportsmanlike behavior. Who knew that a horse could act like such an ass?