click to enlarge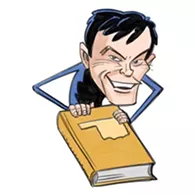 Oklahoma native and former
Saturday Night Live
star Bill Hader recently returned to host the show, marking his first guest appearance since his eight-season tenure.
During a monologue, he detailed the surreal life he leads as a one-time resident of Tulsa.
"I grew up in Tulsa, Oklahoma, like an idiot in some book," he said.
Well, tell that to S.E. Hinton, Mr. Hader.
The actor-comedian stars in the film The Skeleton Twins and now writes for South Park. He acknowledged that most Okies don't get opportunities to add things like that to their resumes.
Hinton, an award-winning Tulsa author, did create memorable, intelligent characters in her classic novels Rumble Fish and The Outsiders.
Stay golden (and grounded), Pony Boy.