click to enlarge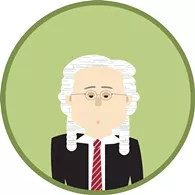 Sen. Tom Coburn, R-Muskogee, wants to have another constitutional convention — you know, like the one we held in Philadelphia in 1787 to write our country's Constitution.
At the Aug. 21 Utah Solutions Summit in Salt Lake City, he and Utah Sen. Mike Lee spoke about their displeasure with how the government is operating. While Coburn believes states should demand another convention so we can "reaffirm what the founders intended," Lee believes we need to take steps to rein in bureaucrats' power, reported Utah's KUTV.com. According to Tulsa's KRMG.com, Coburn's goals are "to have a balanced budget amendment, to limit the executive branch's regulatory authority, and to put term limits on members of Congress."
In order to hold another constitutional convention, two-thirds of the states would have to be on board, and it would take approval from three-fourths of the states to ratify any amendments to our current Constitution.
Hey, if the congressmen are going to wear powdered wigs, make enthusiastic speeches à la the HBO miniseries John Adams and write with quills on live television, we're all for it. We'll bring the popcorn.