click to enlarge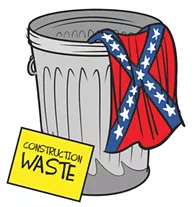 In the wake of the mass shooting at Emanuel African Methodist Episcopal Church in Charleston, the national debate about what to do with the Confederate battle flag has (unlike the South) risen again.
South Carolina, where the massacre occurred, and Alabama, where the Confederate flag is part of the state flag, are wrestling over the fate of the divisive symbol.
Oklahoma flew the Confederate flag at the state Capitol for 22 years, from 1966 to 1988. And when it came down, it wasn't so much for political reasons as for logistics — 14 different flags at the Capitol were removed during renovations. When the work was finished, however, 13 flags returned to the sky while the Confederate flag stayed down.
Maybe it's time to look for construction needs in other state Capitols if those lawmakers are interested in a no-fuss, no-muss solution to taking down their flags.