click to enlarge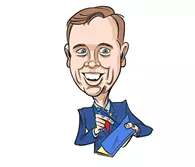 Rep. Jim Bridenstine has paid nearly $64,000 for "confidential" work from a Tea Party consultant.
"House records show the Tulsa Republican's office paid Dean Clancy nearly $44,000 from late August through the end of 2014 and called him 'special projects manager,'" The Oklahoman reported last week. "Sheryl Kaufman, Bridenstine's press aide, said Clancy was paid another $20,000 this year."
Because the U.S. Congress is exempt from the Freedom of Information Act, Bridenstine can spend campaign funds on nearly anything he wants without having to account for it.
Bridenstine made headlines last year when a citizen at his town hall said President Obama should be executed and has become a favorite politician for those who still believe the president was born in Africa, that climate change is a hoax by Bill Nye and pressing two for English is the greatest injustice in American history.
We think it's totally plausible that Bridenstine could be paying thousands of dollars to find evidence that Obama hates puppies, or that maybe Clancy is a clandestine tailor who specializes in designing and sewing Air Force jumpsuits (we prefer the word onesies, though).
Either way, our American way of life is obviously on the line and Bridenstine shouldn't be pressured to deal with silly transparency requests that we'd otherwise expect other, run-of-the-mill lawmakers (like our state's governor, for example) to oblige.