click to enlarge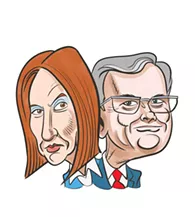 Reality star Donald Trump recently visited Oklahoma City on his campaign trail, followed closely behind (in more ways than one) by Republicans Jeb Bush and Carly Fiorina.
Bush stopped in OKC last week to meet privately with supporters at a Petroleum Club breakfast, and Fiorina spoke at Oklahoma Independent Petroleum Association headquarters. Tulsa talk radio station writers Rick Couri and Russell Mills summed up Fiorina's speech in a KRMG report: "She believes … Americans' hopes and dreams are being crushed, but she says she still believes in America's potential."
Meanwhile, Tulsa World reported that Bush has recruited Oklahoma Attorney General Scott Pruitt to head his Restoring Federalism Task Force.
"Scott and I share a common vision for empowering the states and limiting the intrusion of federal government in every area of our lives," Bush said in a media release.
Good going, Pruitt! We here at Chicken-Fried News couldn't be happier for you.
Print Headline: Crushed dreams