click to enlarge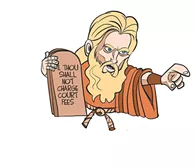 The Oklahoma Supreme Court has given Gov. Mary Fallin and other Oklahoma lawmakers something to cry about.
Fallin publicly rejected the court's 7-2 ruling that the contentious Ten Commandments monument must be removed from the capitol grounds, saying "the monument violates a section of the Oklahoma Constitution prohibiting state property from being used to further religions."
Fallin defied the court's decision anyway, saying it was wrong and the statue would stay where it was.
She voiced her support when Attorney General Scott Pruitt filed a lawsuit asking the Oklahoma Supreme Court to reconsider its decision. It declined and again said the monument needs to be removed.
Fallin and Pruitt aren't alone in their ire, but at least now it's focused on why the court felt it was forced to uphold the decision it made.
"Our Legislature has signaled its support for pursuing changes to our state Constitution that will make it clear the Ten Commandments monument is legally permissible," Fallin said in a media statement.
In the meantime, the American Civil Liberties Union of Oklahoma (ACLU) requested that the court order the state to pay its legal fees regarding the protracted legal battle.
The organization filed the lawsuit on behalf of a local church leader and other state residents who opposed the placement of a religious monument on state property.
It asked for a whopping $805.50.