click to enlarge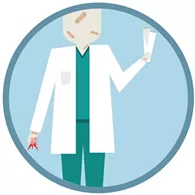 Do no harm? Them's fighting words.
A local doctor was hauled off to jail recently after he smacked one of his former patients, NewsOK.com reported. Notice the word former.
Words were exchanged as the, er, good doctor passed 47-year-old Ginger Rogers outside her apartment complex as she awaited a package delivery. What she got instead, she claims, was a volley of foul language before Dr. Labib Sam Musallam slapped her in the face with a fistful of papers.
What followed was a brawl. The two exchanged punches and Rogers bit one of Musallam's hands, but Musallam also got in a kick to Rogers' ribs. Apparently, the duo also has been duking things out in court over a disagreement they had while she was his patient.
Both were treated for their injuries at local hospitals.