click to enlarge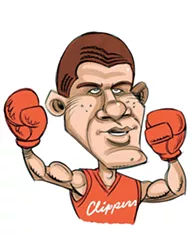 Every day, Blake Griffin pounds people on the basketball court. Now, there are claims that he did so off-court, too. The Clippers star, Oklahoma City native and former OU All-American was charged with one count of misdemeanor battery after allegedly "squeezing [39-year-old Daniel Schulman's] hand and shoulder and/or slapping him in the face."
Reports show that the scuffle stemmed from Schulman taking a photo of Griffin after a night of fun at Las Vegas' TAO Nightclub.
Unfortunately for Griffin, what happened in Vegas left Vegas.
When asked to comment after practice last week, Griffin declined.
"I really can't," ESPN reported. "I'm not really allowed to speak on that, but I'm very confident in the situation. So once I can, I will."
When asked if the charges were "scary," Griffin — who is 6 feet 10 inches tall, 251 pounds and presumably not afraid of anything (except spiders, like the rest of us) — didn't cower.
"No, I definitely would not say scary," Griffin said. "I mean, I feel more bad just for the fact that it's a distraction. And I don't know how big of a distraction it really is, but it is. And that's what I feel mostly bad about."
The Los Angeles Times reported that if convicted, Griffin faces up to six months of jail time, a $1,000 fine and/or community service under Nevada law.
More likely, Griffin will get a hard wrist-slapping from the NBA first. Or maybe a solid face-slapping. Because, you know, justice.