click to enlarge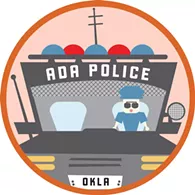 Oklahoma often gets unfairly portrayed in the media, but then we do something like this and have to wonder if maybe we weren't asking for it all along. This is the stuff of idiot buddy comedies starring the likes of Will Ferrell and Sacha Baron Cohen, except it's real and we have nobody but ourselves to blame for our tainted image.
Strapped for cash, the Ada Police Department has employed a plastic dummy — which they dress in an actual Ada Police uniform and adorn with a police badge — to sit in a squad car and encourage speeding drivers to slow it down.
This is not a drill.
APD has actually repurposed a CPR dummy to watch you speed.
As if that isn't enough to make you question the sanity of almost everyone in the state, "The Plastic Popo" has his own Facebook page and people search him out to take selfies with him.
Oh yeah. And he was recently in an accident. Chief Mike Miller told News9.com that a drunk driver hit the car head-on when it was parked "10 or 12 foot off the shoulder" of the road. So now "The Plastic Popo" is hoofing it until a replacement car can be purchased and is sporting a wicked Band-Aid on his face, the only evidence of his terrifying brush with "death."
Because we all needed yet another reason to say, "Only in Oklahoma."