click to enlarge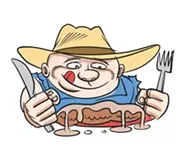 Foursquare (it's like Yelp, but without any of the community involvement) tallied its check-ins and comments to find the nation's "singular tastes" in its quest to find the dish "that is most special and unique to each state."
Maine craves lobster. Maryland is crazy for crab cakes. For some reason, the God-fearing people of Missouri want toasted ravioli.Oklahoma? Come on. Don't act like you don't know. Here, we're all about the chicken-fried steak.
Whether it's from Denny's or Cheever's Cafe, we are a people who like to take a perfectly good piece of steak and bread it, fry it and smother it with cream gravy.
In OKC, other CFS luminaries like Ann's Chicken Fry House, Classen Grill and Chuck House made its list of favorite places to devour the heart-attack-on-a-plate delicacy.
If you find our collective choice in food a bit embarrassing, let us point out that Nevada's most sought after food is "bottle service." We might be pudgy, but at least we're not a bunch of degenerates. (At least not until we visit Las Vegas.)