click to enlarge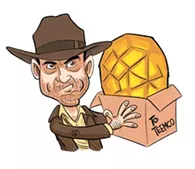 With the New Year comes new moves and new news. No, not new dance moves — though we are excited to see what this year provides in dance routines — but TEEMCO, the company behind Gold Dome restorations, says it plans to move about 40 employees into the iconic building this month. Hence, new moves.
Despite the fantastic Christmas lighting that adorned the dome this holiday season, things have admittedly been a little rocky for TEEMCO, CEO Greg Lorson told NewsOK.com. Fewer employees will move than expected (down 25 employees from its early estimate of 65 people).
However, despite its ups and downs, the company will transfer employees, as well as the world's largest salt crystal lamp, Lorson said.
That's a new and unexpected move, right? It's definitely almost as awesome as choreographed dance. Mined in the Himalayas, the salt crystal was shipped from Pakistan to New York and now resides in a TEEMCO warehouse somewhere in OKC. Its new home will soon be the Gold Dome lobby. It's a fitting decoration for OKC's gaudiest and possibly most talked-about building.