click to enlarge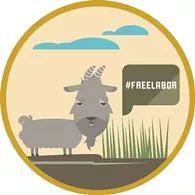 What do you get when you hire goats to work for the city? A really great social media campaign.
The Water Utilities Trust needed a way to take care of the out-of-control vegetation at the Hefner Canal and Langston University's Goat Research Extension Program needed to watch its goats doing goat stuff, like eating overgrown grass. It was a match made in Twitter heaven. The goats arrived at the canal on Aug. 12 and sent their first tweet from @hefner_goats on Aug. 18: "Hey @BaphometOKC, could you help a brother out and stop the lightning? First day on the job, and we're kind of freaking out."
They have over 900 followers and interact with restaurants and shops around the metro, news anchors, meteorologists, the Oklahoma City Zoo, district accounts like @plazadistrict and even their bosses at City Hall.
They also tweet about their pay (Sept.9: "Yeah right. Like you were really going to pay us $9/hour.") and negotiating their contracts (Aug. 18: "We get dental, right?"); make goat jokes (Sept. 8: "We've got 2 goats locking horns. Anderson says Ella's Gershwin Songbook was her best. Cimarron says the Porter Songbook was far superior."); send out selfies; and interact with their guard dog, Otto, who also has his own Twitter account @OttoTheGreatP.