click to enlarge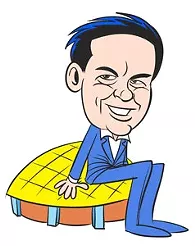 The Baroque, err Gilded-Age-inspired (Which one is it?) Gold Dome building has yet another owner, but this time, it is someone with a proven track record.
Citizens State Bank built the Gold Dome in 1958.
At that time, the two-story building was "the bank of tomorrow." Now, it is tomorrow and the building remains mostly unusable.
Though it sits on prime real estate, the building, an archaic eyesore or beautiful relic of OKC history — depending on who you ask — was bought by TEEMCO and was to be redeveloped into the corporate headquarters for the Edmond-based environmental consulting firm.
Then, the grand plans fell apart due to continued financial problems, according to NewsOK.com.
Now, Jonathan Russell, the mastermind behind The Rise shopping center on 23rd Street, bought the building last week and has big plans for it.
If anyone can transform it, we believe Russell can. Not literally, as we're guessing that he won't start with some dynamite and a few implosion charges just for old time's sake.