click to enlarge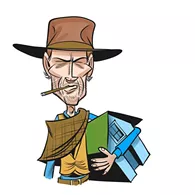 Remember the Clint Eastwood movie The Good, the Bad and the Ugly?
If you don't remember the 1966 western, you must recall the legendary theme song.
Think repeating tom-tom drum followed by wah, wah, wah.
Like the movie, the City of Oklahoma City deals with good houses, bad houses that need a little work and ugly houses or nuisance properties.
How does the city handle the properties that are abandoned or structurally unsafe? According to KOCO.com, neighbors and concern citizens report nuisance properties to city workers, who launch an investigation.
If the city finds a home dilapidated, an owner receives a warning. The owner has two choices: repair or tear down the property.
If an owner doesn't respond, the city adds the address to a list, which is presented to the Oklahoma City Council for a hearing. Only with the council's blessing can city staff demolish a house and try to recover the cost by placing a lien on the property.
Back to the tom-tom drum.
If only a city worker would find a stash of gold in one of those houses, sluggish tax collections wouldn't be such a concern.
Print Headline: Good, bad, ugly