click to enlarge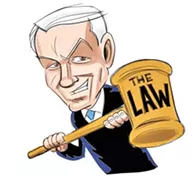 Before his current role as Oklahoma County District Judge, Bill Graves was a state legislator who authored dozens of anti-abortion measures and was vocal in his anti-abortion views.
So it probably comes as no surprise that he recently denied a doctor's challenge to a new anti-abortion law in Oklahoma that requires doctors who perform abortions to have admitting privileges at a nearby hospital.
"I'm against murder. Does that mean that I shouldn't hear a criminal case?" Graves said when asked by The Oklahoman if he should have recused himself from abortion cases due to his personal beliefs.
Unlike murder cases, legal issues involving abortion are not typically asking a judge to decide if the act was actually committed. Besides, murder is illegal in Oklahoma, and abortion is not.