click to enlarge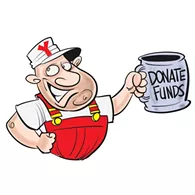 Ever get to the checkout lane at the grocery story only to realize there's not enough money to pay for that incredible amount of food in the basket?
It's a special kind of humiliation, one that starts with making a value judgment between a dozen apples and two boxes of White Cheddar Cheez-Its and ends with putting back a dozen apples.
The City of Yukon is finding itself in the flustered customer role, only instead of spending too much on some Red Delicious, they're putting off plans for a new city hall.
There were plans to build a new facility near the intersection of E. Main Street and Yukon Parkway, but recently discovered financial errors and mismanagement have forced the city to move on. It is estimated by the city manager that Yukon is facing as much as $3 million in debt.
The Yukon City Council recently voted to sell the land intended for the new site. According to a story by NewsOK.com, Yukon is due to pay $2.4 million for the land in September.
It's too bad Yukon can't afford a new hall. Have they considered starting a GoFundMe? It sounds silly, but there have been odder Internet requests for cash. Perhaps they should seek a sponsor. Call it Yukon City Hall Powered by White Cheddar Cheez-Its.
Print headline: Hall no