click to enlarge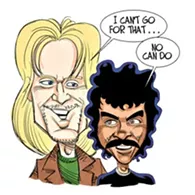 They may be outnumbered, but Oklahoma atheists are a feisty bunch.
Their latest battle with Christians is about a painting of two children praying in front of an American flag, which adorns the main office of Putnam City School District's Kenneth Cooper Middle School.
The image — which basically says to children, "God loves America, and you should too" — is the latest target of the Freedom from Religion Foundation, a Madison, Wisconsin-based nonprofit and staunch defender of the separation of church and state.
The foundation demanded the painting be removed and hopefully destroyed after it was reportedly contacted by a parent.
But parent Dwaine Curtis, American, doesn't see what the big deal is.
"You see pictures like that all the time hanging up everywhere," Curtis told News9.com. "[It] doesn't bother me any and shouldn't bother anyone else."
Yep. Everywhere. In fact, we have one here at the Gazette office — only instead of two children, it's Hall & Oates. You get the gist, though.