click to enlarge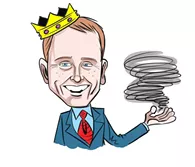 The South Oklahoma City Chamber of Commerce presented retired longtime local weatherman Gary England with the Native Son Award last month at its annual banquet.
The chamber honored the former KWTV chief meteorologist for his community work, but we love all his accomplishments. We'd like to honor him as Oklahoma Gazette's King of Everything.
Plus, you know, he appeared as himself in the movie Twister in 1996. He has inspired drinking games, saved lives, practically invented the concept of storm chasing, helped develop commercial Doppler radar as we know it today and The Lost Ogle once named him the most powerful person in Oklahoma.
We didn't get a copy of the fete's menu, but we're guessing (hoping!) it included Tornado Alley Tacos, a Thunder Lizard Margarita and Big Ugly Ice Cream Cake.