click to enlarge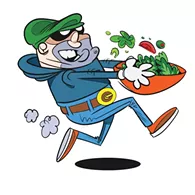 It's not nice when your friends try to steal your ideas and use them for their own purposes.
It's especially not nice when you've been paying them to do a job.
According to NewsOK.com, former Coolgreens CEO Scooter Aselton, Chief Operating Officer Ron Aselton, restaurant manager Cody Aselton and consultant Ken Aselton were ordered by Oklahoma County District Court Judge Bryan Dixon to hand over all the Coolgreens info — including laptops and recipes — the company believed they had stolen in a scheme to open a competing restaurant chain.
Coolgreens owners obtained a restraining order against the Aseltons after finding emails mentioning their plot.
The affidavit Chief Financial Officer Robert Lee gave to the court even asserts that Scooter Aselton and his wife broke into the restaurant and stole food and proprietary information on Sept. 28.
NewsOK.com reported that the restraining order was issued Sept. 29 and "bans the Aseltons from opening a competing restaurant in Oklahoma."
It would be so much easier if people who do things like this were just named Judas so everyone would be warned.
Print Headline: Not cool