click to enlarge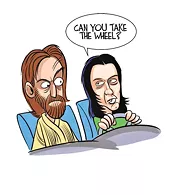 "I'm God, bitch!" said the creator of all things, omnipotent and all-knowing, after She recently crashed a stolen SUV into a Sand Springs police car. "Welcome to hell!"
God, who takes many forms, allegedly appeared on Nov. 6 as Stacey Ann Bunsey, 41, who drove Her divine instrument into officer James Matthew Stacy's patrol car.
The officer fired two shots at the Alpha and the Omega before the collision but was not injured.
"My only explanation was he was under the protection of God," Sand Springs Police Chief Mike Carter said at a press conference, according to Tulsa World.
And She also was under the protection of the officers, who Tased the suspect before handcuffing Her as She sang hymns.
Bunsey, aka THE GREAT I AM, was arrested on complaints of assault and battery with a deadly weapon on a police officer, eluding a police officer, driving under the influence of drugs, possession of a stolen vehicle and resisting arrest.
By the way, there are just 30 more shopping days until Christmas.