click to enlarge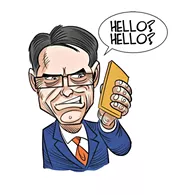 Wouldn't it be nice to make a single call and have a problem go away, like the black-and-white, good-vs.-evil, hero-saves-all (or mobster makes scrutiny "disappear") we see happen all the time in movies and streaming reruns of Law & Order?
Apparently, politicians sometimes make calls like those in real life, too, as one such conversation between former Texas Gov. Rick Perry and Oklahoma Gov. Mary Fallin allegedly shows.
Earlier this month, investigative news website The Frontier reported that Perry, at one point a Republican presidential candidate, called Fallin after hearing about a Tulsa campaign contributor who was in hot water with the state's medical board.
"It's unclear how much influence Perry had, but soon after his phone call in early 2013, a three-year, $600,000 investigation abruptly ended," The Frontier wrote.
The medical board's investigation concerned Steven Anagnost, a spinal surgeon who continues to practice in Tulsa.
A few years ago, he was accused of medical violations involving 23 patients — in some cases, the patients were paralyzed or in perpetual pain after surgery.
The Frontier reported that the Oklahoma Board of Medical Licensure and Supervision was considering revoking Anagnost's license.
The board was asked to end the investigation and leave Anagnost alone after a meeting with Fallin's general counsel, Steve Mullins.
The article references a memo written by Dr. Eric Frische, the medical board's executive director.
Frische wrote that Mullins spoke of Gov. Fallin not wanting "any more calls from Rick Perry about this" and "what would it take to make it go away."
The Oklahoma Democratic Party agrees it's not the governor's job to interfere with the medical board and called for an investigation into the conduct of Fallin, Mullins and state Attorney General Scott Pruitt.
Fallin, Mullins and Pruitt shouldn't fear. Someone is bound to make a phone call to make it go away.
Who does Perry know in the Democratic Party?