click to enlarge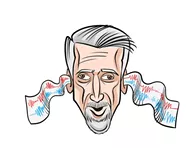 Federal authorities believe one Norman resident who "teaches to the test" was in the wrong in his quest to ensure people pass.
Douglas Williams helps people pass polygraph tests, and now he is going to federal prison for teaching those trying to fool federal employees.
Williams might sound familiar. The 69-year-old, former Oklahoma City police officer appeared on news programs like 60 Minutes to share how to pass a lie detector test. Williams published a book, From Cop to Crusader: My Fight Against the Dangerous Myth of "Lie Detection," to explain the history of the polygraph machine, including how the inventor, John Larson, came to despise it. You can get a copy from his website, polygraph.com, which also features a three-minute welcome video from the man himself.
Federal prosecutors are not mad that he wrote the book or told a national audience about how to fool a polygraph.
The fact that he trained people who later attempted to mislead the feds earned Williams a court date with the U.S. Department of Justice.
According to a Federal Bureau of Investigation release, he pleaded guilty in May to two counts of mail fraud and three counts of witness tampering. His two-year prison sentence was handed down last month.
Prison yard talk is about to get interesting.
Print Headline: Polygraph, prison