click to enlarge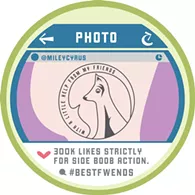 In some weird, slightly OK disturbing way, the budding partnership between Flaming Lips frontman Wayne Coyne and pop starlet Miley Cyrus actually kind of makes sense, age difference be damned.
Cyrus, a provocation-reliant pop star much like Britney Spears or Madonna, and Coyne, a provocation-reliant indie star like Alice Cooper or David Bowie, have genuinely taken to one another in the midst of what seems like a five-month-long bender.
It started back in February, when Coyne joined Cyrus (a longtime Lips fan) onstage during her Bangerz tour to cover "Yoshimi Battles the Pink Robots Pt. 1," a seemingly innocuous — if somewhat odd — pairing at the time. A few studio sessions covering Beatles songs, a Billboard Awards performance and matching chest tattoos of Cyrus' dead dog later, the two are now in peak-freak form.
What's that? What matching chest tattoos? Oh, well, during a house party in Los Angeles, photos surfaced on Coyne's (Third? We've lost count.) Instagram account of Cyrus, Coyne and Coyne's girlfriend, OKC resident Katy Weaver, showing off some new ink. The tattoos depicted Cyrus' deceased puppy uttering the words "with a little help from my fwends" — you know, your standard, run of the mill "What the heck was I thinking?" kind of stuff.
Hours later, as if we didn't have enough material, Cyrus and Coyne teamed up with EDM hobbit Moby to release a short film called Blonde SuperFreak Steals the Magic Brain. One guess what it's about.