click to enlarge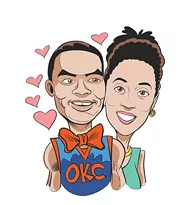 The headlines were intense.
"Russell Westbrook marries college sweetheart in disappointingly conventional outfit," crowed The Washington Post.
"Russell Westbrook gets married; you'll never believe what he wore," ESPN click-baitingly teased.
"Our Guy Russell Westbrook Just Had the Best Week Ever," GQ might have exaggerated.
Indeed, it was a monumental weekend for the Oklahoma City Thunder pro baller. But it's totally perhaps maybe possible that he really might have had the best weekend ever. Why?
1.) He sang a duet with Taylor Swift at the Staples Center. This wasn't related to his wedding. But, still.
2.) He didn't design his own wedding attire or his bride's. (High-five! Good call, sir. Drop-crotch, hippy leggings — even if they're white and made of lace — wouldn't have been flattering for either of you in those wedding photos.)
3.) He did wear a Tom Ford tuxedo on the Big Day. We're not sure why this garnered the faux-shocked headlines it did from responsible, hard-hitting journalism bastions ESPN and the Post. The man has style, which means he knows when it's appropriate to wear a suit — we assume.
4.) Westbrook's first dance with wife Nina Earl was to Lauryn Hill and D'Angelo. Oh, and neo-soul powerhouse Miguel performed.
OK, OK, OK. It was a shrewd call by GQ, but it was right. Good call, and congratulations, Russell and Nina!
Print Headline: Russell Bestbrook