click to enlarge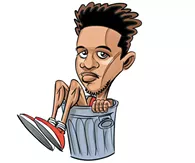 Michael Carter-Williams just keeps talking that trash, even when it's no good for him. The point guard for the Philadelphia 76ers, who stands 6 feet 6 inches tall, just can't seem to help himself. And who he's really helping is OKC Thunder point guard and star player Russell Westbrook.
According to the website SBNation.com, the trash talking started with a March 4 meetup between the teams. Feeling good after a win against the Orlando Magic, the 76ers point guard opened his big, fat mouth. Westbrook's response was to score a triple-double with 13 points, 10 rebounds and 14 assists in his 21 minutes on the court.
You would think that would have schooled the rookie, but the next time the two met on the court, the smack talk continued. After popping off at Westbrook, this time, the OKC Thunder point guard managed 27 points in 14 shots in the Thunder's winning game. It seems the more trash Carter-Williams talks, the better Westbrook plays.
In a comment about the incidents, Westbrook was unfazed.
"I like it; it's good because that's how I play anyway. I compete. That's what I like to do. He wants to compete as well," Westbrook said.
Leave it to one of our own to manage a condescending compliment as smooth as his playing.
Now, to improve his playing, Carter-Williams might want to lay off the talk and focus on the game. As far as we're concerned, hats off to him, and let's hope he keeps up the talk. It seems to give Westbrook and the OKC Thunder more of a competitive edge.