click to enlarge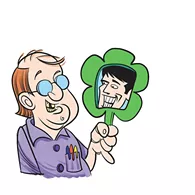 Clover dating app used its "proprietary scoring system" (snicker) to rank our great nation's Most Attractive Cities & States. The company even created a blog post and four infotainment maps to illustrate the findings.
We're No. 6! Congratulations, Oklahoma men! You almost got Oklahoma into the top five Most Attractive States ranking, according to Clover's "proprietary scoring system." Yay! You fell behind the men of Missouri, North Dakota, Utah, South Dakota and Montana. Not one of our state's cities, however, earned a "hot" dot on their maps.
We're No. 1! You poor, frustrated, lonely male Clover app users. Why you choose to live here is unfathomable. Clover's "proprietary scoring system" discovered Oklahoma City women are the least attractive in the nation.
Mississippi's female population helped earn the dubious honor of America's Least Attractive State. Hold your nonpretty lady head high, Oklahoma City, because you helped Oklahoma earn the No. 2 slot.
Speaking of scoring ... listen, guys. It's time for an ugly moment of truth. If you're using Clover to score, well, you probably won't. Because Clover's "proprietary scoring system" just gave its female users the perfect reason to dump that app, and possibly you.