click to enlarge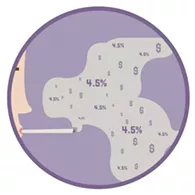 If research from the personal finance website NerdWallet.com can be believed, nearly 113,000 Oklahomans age 25 and older smoke pot. Using the website's math, that means an overall potential revenue of $150 million for our state, including a projected $35 million of potentially lost tax revenue. The site reported that Colorado expects up to a $70 million boost in tax revenue alone this year.
It estimates our total state population is almost 2,500,000 and that more than 4.5 percent of the population smoked weed it in the last month, which puts the Sooner State in the 1 percentile of overall national use. Eleven percent of Alaskans claim they've toked in the last month, while only 3 percent of North Dakotans say they have.
The $35 million tax revenue estimate combines state and local tax rates and adds 15 percent for excise tax. Nationally, the study estimates there are nearly 209 million regular smokers over age 25.