click to enlarge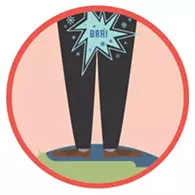 Vince Gill recently said he had heavy shrinkage, and he wasn't talking about his fan base or record sales.
The famous Oklahoman took time out of his busy schedule of not making new music and not hosting the Country Music Awards to accept the ubiquitous amyotrophic lateral sclerosis (ALS) challenge. Four people, whom he called out on the video, had challenged Gill to take the plunge. And he said he accepted "with total bravery." Gill went on to say, "Me being the age that I am, I can't do that. I really don't need cooled off down there anymore," after explaining that one of his challengers poured the ice water down his own pants.
After the splash, Gill said, "That's beautiful. We've got some heavy shrinkage going on right now," to the laughter of those around him.
The man could sing us the details of his colonoscopy and we would all swoon.