click to enlarge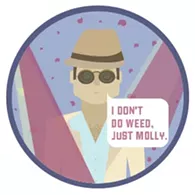 Remember when Wes Welker was handing out $100 bills at the Kentucky Derby a few months back and you were thinking to yourself, "How messed up was this guy?" Well, now we have a pretty good idea.
The Denver Broncos wide receiver and Oklahoma City native was suspended four games by the NFL for violating the league's performance- enhancing drug policy. The alleged "performance-enhancing drug"?
Molly, aka MDMA, aka ecstasy, aka "Oh my god everything is amazing!"
A source told ProFootballTalk.com's Mike Florio that Welker took Molly that had been cut with amphetamines that day, presumably to make watching horses run in a straight line more tolerable. But the amphetamine part is why this was classified as "performance enhancing," which is kind of ridiculous.
While Molly definitely does enhance things (er, so we've heard), we're skeptical that playing football is one of them. In an email to The Denver Post, Welker denied the report in the best way possible.
"I wouldn't have any idea where to get a Molly or what a Molly is," he said. "That's a joke. I don't do marijuana. I don't do drugs. I don't do any drugs."
Got that? Welker doesn't do marijuana so he obviously doesn't know what a Molly is. But, hey, the guy still knows how to party.