click to enlarge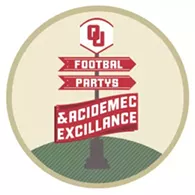 University of Oklahoma: They're football team is the best!
The University of Oklahoma is failing our children.
It would seem that OU has brushed aside the basics of education — reading, writing and arithmetic — in favor of football, winning and partying. At the very least, there's a gap in learning at the esteemed educational institution made glaringly clear by its blatant grammatical error on live television during the game against Louisiana Tech on Aug. 30. (Which the team won by a sweeping 32 points. Hoo-wah!) A scrolling ad across the top of the screen during the game read, "OU Outreach: You're degree is within reach."
Whoa.
Pro tip: There's an invention called spelling and grammar check. Look into it, lest the next advertisement read something about how "there football team is the best."
Go Sooners!