click to enlarge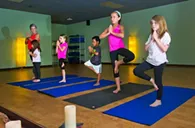 From aligning your chakras with the masses at Myriad Botanical Gardens to sweating it out over a hot lunchtime session, yoga classes for all ages seem to be on the rise around the metro.
The American Osteopathic Association paints the benefits of yoga as a remedy for a multitude of health problems like stress and an impetus to increased flexibility, weight reduction and increased muscle tone. It also develops confidence and boosts self- esteem, among other benefits.
Because of this, more parents around the metro have been signing their children up for yoga classes.
"Most are required to be still a lot during a school day. They need to move and release pent-up energy. Yoga helps do that in a productive way," Denise Springer said.
Springer is the owner of You Power Yoga, 1904 E Second St., in Edmond and also works with Pose Yoga, an enrichment program she is hoping will soon be offered in metro schools as a paid option.
How does it work?
Springer notes that yoga works in a somewhat mysterious way; poses build strength and flexibility while massaging and detoxifying internal organs.
A single yoga session can take your body through a full range of motion.
This means that joints are stretched, bent and squeezed. For example, the "chair pose" circulates oxygen-rich blood through the poser's joints, which can decrease the risk of arthritis.
According to Yoga Journal, Yoga is also thought to increase the drainage of lymph, the fluid circulated in the lymphatic system, which helps our bodies fight infection, destroy cancerous cells and dispose of toxins.
Springer explained that over time, yoga practice also can help little ones learn to maintain their composure and stress levels.
"In yoga, kids learn to use their breath and their physical posture to help themselves focus in school, reduce their stress levels and slow down when they need to or want to," she said.
Cindy McCook's daughter, Lily, was recently diagnosed with Type 1 diabetes. With multiple daily finger pricks and episodes of hyper and hypoglycemia, Lily undergoes more physiological stress than the typical 4-year-old.
Aside from making new friends, when asked about her experience with yoga, Lily said yoga is "a fun exercise" and she feels "calm and relaxed" after class.
Print headline:
Stretched thin: The health benefits of yoga reach all age groups.