click to enlarge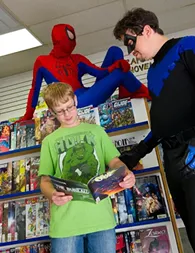 Marvel Studios' Guardians of the Galaxy grossed nearly $430 million worldwide, shooting James Gunn's postmodern space comedy to the front of this year's highest- earning films. All the same, moviegoers could be excused if they had no idea who the Guardians of the Galaxy actually were before seeing the movie.
Unless, that is, they went to New World Comics' two Superhero School lessons covering the team and had a chance to meet Groot, Rocket Raccoon, Peter Quill, Gamora and Drax the Destroyer in person — once in 2013 and then again during the week leading up to the film's release.
"The kids freaking loved them before they knew there was a movie or anything else," storeowner Brian "Buck" Berlin said. "We had kids running around, screaming, 'I am Groot.' I made the costumes comic book-accurate; I made sure to get everything so that the kids could go pick up a comic and understand it."
Cultivating a love of comics — and reading in general — is part of the reason Superhero School organizers Laurie Blankenship and Stephanie Cerny, as well as their team of volunteer cosplayers, assume various alter egos at 10:30 a.m. every other Saturday at New World Comics, 6219 N. Meridian Ave. The next event is Sept. 6. Call 721-7634 for more information.
"Well, it was originally to increase sales at the store, basically, and get new readers, get the kids involved," Blankenship said. "It's turned into something more than that."
Superhero School also has appeared at charity events, elementary schools and public libraries to help promote causes.
The Superhero School has an official partner in the Bella Foundation, which provides service dogs that children read to in order to strengthen their reading and interpersonal skills, cosplayer Kit Compton said.
Ultimately, the charity work, special appearances by the Superhero School at libraries and community outreach are logical extensions of Berlin's desire to carve a positive environment out of the space he owns.
"I took over the store at 22 (in 2006)," Berlin said. "I look back and I see other 22-year-olds and I think, 'Oh Jesus. How did I do that?'"
But he did well — and still does.
click to enlarge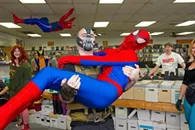 "If you can be entertaining or have something going on that looks cool, people want to come in and see it," he said. "I noticed that Free Comic Book Day is when we get the most people in here, and that's the one time that people are going to come by no matter what and see what the shop's about."
It was during Free Comic Book Day 2012 that Superhero School was convened at New World for the first time. It's all part of a job — and business — that he loves.
"The benefit is I come to work every day and I see friends. It's awesome."
Print Headline:
Comic crusader: A local comic shop offers lessons in superheroes and more.