click to enlarge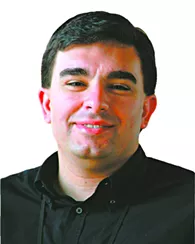 Black Asphalt isn't just used to pave roads. It is also the name of a hidden law enforcement database created by a private company in Guthrie whose role in American law enforcement's growing practice of policing for profit was exposed in a recent three-part report in The Washington Post. This exposé and the American Civil Liberties Union (ACLU) of Oklahoma's recent open records lawsuit against the Logan County Sheriff for Black Asphalt records have produced many questions about what Black Asphalt is and what it means for you and me.
In simple terms, Black Asphalt is a web-based networking and data tool that allows police officers across America to communicate about suspects, searches and suspicions without having to use their departments' normal record-keeping systems. Up to 25,000 officers have used it since its creation in 2004 while policing our nation's highways.
Such a tool might not sound like a bad idea. But what frees individual police from the restrictions of their departments' communication systems also frees these records from any real accountability or oversight. Black Asphalt is not any law enforcement database but a secret law enforcement database hidden from the eyes of our courts and invisible to the people whose activities and information are tracked within it. Much like National Security Agency domestic spying programs that amass huge amounts of personal data daily, Black Asphalt is as opaque as its road-paving namesake.
More concerning its use in a growing practice of policing for profit, in which lax asset forfeiture laws allow cash-strapped or unscrupulous departments to seize cash or property without ever convicting or even charging the owner with a crime. Black Asphalt is designed not just for posting of information on criminal activity but for dealing with data on anyone whom any officer considers suspicious at any time, for any reason, so that seizures, not just safety, can be maximized.
If you have been pulled over or questioned by a law enforcement officer in the last 10 years, it is possible that information about who you are and what you were doing was posted there without your knowledge or consent. Whether your information was taken and what has happened to it since then is anybody's guess. That is why the ACLU of Oklahoma filed suit to get access to records of and about the Black Asphalt system. The Logan County Sheriff took control of Black Asphalt in 2012 but has yet to share more than minimal information about it. No amount of "trust us" will suffice in place of true transparency and accountability.
In many Oklahoma communities, trust of law enforcement is at a dangerous low. Recent events in Ferguson, Missouri, show what can happen when people cannot trust those who are there to protect them. Thousands of officers in Oklahoma and across the U.S. put their lives on the line every day to honorably keep us safe and free. But when the actions of even a small number of officers blur the line between cops and robbers, it erodes the public's trust in all.
Brady Henderson is Legal Director of the ACLU of Oklahoma, our state's affiliate of America's largest civil rights organization.
Opinions expressed on the commentary page, in letters to the editor and elsewhere in this newspaper are those of the author and do not necessarily reflect the opinions of ownership or management.