click to enlarge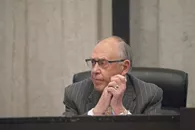 After an unsuccessful attempt last month to strengthen the city's enforcement of cycling laws, Councilman Pat Ryan received approval from the Oklahoma City Council Tuesday to adopt the state's law concerning bikes passing cars and to give police the power to write tickets.
Oklahoma law already prohibits bicycle operators from passing other vehicles between lanes of traffic, but Oklahoma City police are not able to issue tickets for violating a law only on the state books. The passage of Ryan's proposal gives police the ability to issue tickets ranging from $50 to $500 to a cyclist.
"This is just [an adoption] of a state law that will allow a more efficient means of enforcement," Ryan said. "I think [the fine] should be even higher than that, personally."
Council memo on the new ordinance
Convention center search moves forward
City officials announced last week they would no longer seek land west of Chesapeake Energy Arena as the site of a new convention center, and the city council voted Tuesday to officially cut off negotiations and reopen the search process.
City officials said the land owner's asking price was the reason for ending negotiations, but development of the land could have also been complicated if the city had decided to proceed with eminent domain.
During Tuesday's meeting, the city attorney told the council that land obtained through eminent domain could only be used for a public building. That means if land was acquired through eminent domain, any hotel built would have to be owned by the city, rather than a private developer.
"I think it's great for MAPS 3 and will result in a much better outcome," Councilman Ed Shadid said about walking away from the proposed location.
Councilman opposes charter school bill
A bill to give Tulsa and Oklahoma City the ability to sponsor a charter school was addressed by Councilman Pete White, who said he is against the effort.
Sen. David Holt, R-Oklahoma City, who is the author of Senate Bill 68, said his legislation is not a request from the city but a push to give the state's two largest municipalities more power in improving education.
"Look at how the [Oklahoma City] mayor and [city] council are constantly being told we need more John Rex schools," Holt told Oklahoma Gazette last month. "But the mayor and council's hands are tied because they are not a school district."
White said he saw a city-sponsored charter school as destructive to the relationship between the city and school district.
"Over the last three years, along with councilman [Pat] Ryan, I have primarily devoted my time as a councilman to develop the relationship with Oklahoma City Public Schools, primarily to bring it into a better situation," White said. "If Oklahoma City wanted to sponsor a charter school, the first people we ought to ask is [the school district], as opposed to us having the unilateral authority to do that. I think it destroys the relationship that Pat and I have worked really hard to build over the last three years. I think it is very destructive to create a situation where we could go around the [district]."