click to enlarge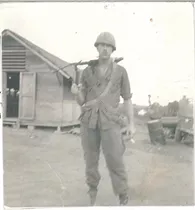 In the middle of his advanced training at Fort Polk in Louisiana, awaiting deployment to Vietnam, Stanley Beesley received a letter from his former college football teammate Don Sloat shortly before he was killed. Attached to the letter was a photograph of Sloat holding an M60 machine gun.
"He said, 'Bees when you get over here they're going to give you one of these. They give all the big athletic guys M60s,'" Beesley, author of Vietnam: The Heartland Remembers, said.
And they did, but by that time, Sloat had sacrificed himself to save three of his squad mates.
The resourceful Viet Cong placed booby traps amid the dense underbrush and "wait-a-minute vines" — vines that would seemingly grab soldiers and their guns out of nowhere. When an American point man's boot triggered a trap, he was trained to holler, "Wire!" and run as fast as he could. The soldiers behind would often dive off the trail and take cover. However, after a trap was triggered and a grenade rolled toward Specialist Four Sloat on January 17, 1970, he realized he only had milliseconds before detonation. To save his squad mates, Sloat hugged the grenade, absorbing the full impact.
He died a month before his 21st birthday.
"That was him. He always put others first. He was just a humble, self- effacing guy," Beesley said. "One of my comrades said it best about Don. He said, 'You can't train for that.'" Forty-four years after his act of selflessness, President Barack Obama posthumously awarded Sloat the Medal of Honor, the nation's highest military honor, on Sept. 15 in Washington D.C. Sloat's brother, William, of Enid, accepted the award on his behalf.
click to enlarge
Family
On Aug. 29, the Oklahoma National Guard held a press conference with Sloat's three siblings at Vance Air Force Base in Enid. William Sloat spoke about his brother's generosity; the circumstances when his brother enlisted; and his telephone conversation with President Obama, during which the president thanked him for his brother's character.
"In the process of choosing to enter the Army, he was turned down because of high blood pressure. He reapplied several times," William Sloat said. "I think four to seven times. He eventually got in, and [the Army] became his new family."
Don Sloat wrote concise letters to his mother, Evelyn, during his tour of duty. Many of these were published in Beesley's book with her permission. Sloat rarely elaborated on the details of war. Instead, his letters are filled with questions about his brother and two sisters, and, often, he attempted to alleviate her concern.
"Mom, you said that you could take it a lot easier if I was taking it ok. Well I don't know who told you I was taking it hard but this is not bothering me at all. So don't worry about it," he wrote in a letter dated Dec. 18, 1969.
He signed all of his letters simply, "Love, Son."
"It's Don's award, but we feel it's Mom's story," William Sloat said.
Evelyn Sloat didn't know the specifics of how her son lost his life until the early 2000s. The family discovered a post online from one of her son's squad mates, who wrote of Sloat's heroism. Evelyn spent years contacting everyone she could, pushing for her son's sacrifice to get the attention it deserved. She did not live to see her son nominated for the award — she died in 2011.
Early Life
Sloat grew up in Coweta. While the city is now a sprawling suburb of Tulsa, in Sloat's lifetime, it was a modest country town of around 2,000 people.
"Everybody knew what everybody else was up to," Beesley said.
Sloat graduated in 1967 and then attended Northeastern Oklahoma A&M College (NEO) in Miami, Oklahoma. There, he played tackle. NEO won the NCJAA football national championship that fall. Although Sloat did not see a lot of playing time, Beesley said he remained a popular person around campus.
"He wasn't the most fortunate guy or a scholar or the best football player; he was just a good ol' boy, a real funny guy," Beesley said.
During his second year at the junior college, he decided to volunteer for the draft with another young man from Coweta's class of '67, Mark Hatfield. At the time, the tiny town of Coweta had already borne the loss of six men in combat.
"It hung over their heads. Six of their friends had been killed. They knew all of them. They thought, 'What am I doing?' There was pressure. These are guys from Small Town, Oklahoma. They grew up on John Wayne movies. It may sound corny, but patriotism was real. Don felt it," Beesley said.
Combat
Sloat had an admirable service record in the Army, receiving two Bronze Star medals for valor. The Sloat family isn't sure what acts earned the medals. When Sloat found out he was being awarded the first, he wrote succinctly, "Some guys came out last night and told me that I was going to get the Bronze Star medal." Nothing more.
Beesley supposes his friend earned the medals by protecting his squad mates.
"Next to the squad leader, the guy carrying the M60 is the most important. He lays down, covering fire so his buddies can move," Beesley said.
Those carrying the M60 also carried additional risk.
The North Vietnamese often targeted the machine gunners. The enemy would discern the direction the heaviest fire was coming from and concentrate their attack.
Coweta Eight
The town of Coweta got used to seeing a drab olive green sedan. One visited the town eight times, delivering the news of another lost soldier. Of the eight, four graduated from the town's high school in 1967.
Sloat was the final man from Coweta to be killed in action. Due to the size of the population, Coweta suffered more deaths per capita than any other city in the United States.
For a town that lost eight young men, for a mother who sought meaning in her son's death, Sloat's nomination for the Medal of Honor has been long overdue.
On Jan. 14, 1970, three days before his death, Sloat penned his final letter to his mother. He told her he had some "R and R" coming up and he might get to come home soon. He concluded the letter the way he finished many, talking about the people he loved:
"I got your package yesterday with the pecan pie and cigars. All the guys said to tell you it was real good and that they could eat some more of it. (Hint hint.)
"From the way your letters sound you are getting a lot of snow. I bet the kids really love it. Well Mom I guess I'll close for now. I'll write again real soon. Love, Son."
Print headline:
Man of honor: A young man from Coweta, Oklahoma, is awarded the Medal of Honor 44 years after his death.